Cleopatra and Egypt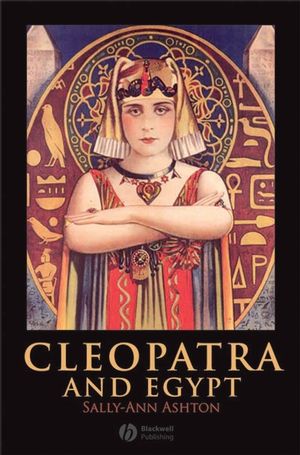 Cleopatra and Egypt
ISBN: 978-1-405-11389-2 April 2008 Wiley-Blackwell 236 Pages
Description
This beautifully illustrated new biography of Cleopatra draws on literary, archaeological, and art historical evidence to paint an intimate and compelling portrait of the most famous Queen of Egypt.



Deconstructs the image of Cleopatra to uncover the complex historical figure behind the myth


Examines Greek, Roman, and Egyptian representations of Cleopatra


Considers how she was viewed by her contemporaries and how she presented herself


Incorporates the author's recent field work at a temple of Cleopatra in Alexandria


Beautifully illustrated with over 40 images
List of Illustrations.
Author's Foreword.
Aknowledgements.
1 Cleopatra - Black and beautiful?.
2 Sources.
3 King's daughter, King's sister, Great royal wife.
4 Ruler and regent, pharaoh.
5 Cleopatra's capital and court.
6 Cleopatra as a Goddess.
7 Cleopatra, Mark Antony and the East.
8 Death of a queen rebirth of a goddess.
9 The legacy of Cleopatra.
Bibliography.
Index
"Informative general introduction to Cleopatra, it tends to focus on a wide variety of sources that provide interesting angles from which to examine this infamous queen." (
Scholia Reviews
, 2010)
"Ashton's careful consideration of the Egyptian material is what makes her book a valuable addition to our understanding of Cleopatra. ... A welcome addition to the growing number of texts on Cleopatra suitable for classroom use." (The Classical Outlook, Spring 2009)
"If you want a well researched and illustrated account of Cleopatra within her contemporary Egyptian context, read Ashton." (The Bulletin of the American Society of Papyrologists, 2009)
"One of the best features of Ashton's book is its assessment of the evidence, literary as well as archaeological. Ashton's book … is a valuable contribution to the literature on Cleopatra." (Bryn Mawr Classical Review)
"A must-read, scholarly book on Cleopatra for students and teachers of ancient Egypt, Cleopatra, and ancient art." (About.com)


Deconstructs the image of Cleopatra to uncover the complex historical figure behind the myth


Examines Greek, Roman, and Egyptian representations of Cleopatra


Considers how she was viewed by her contemporaries and how she presented herself


Incorporates the author's recent field work at a temple of Cleopatra in Alexandria


Beautifully illustrated with over 40 images