Click Chemistry: In Chemistry, Biology and Macromolecular Science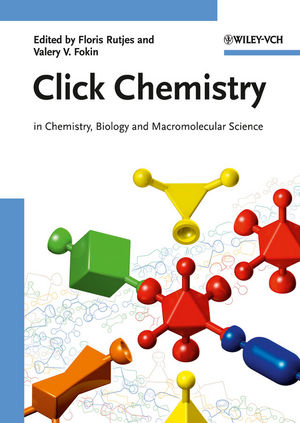 Click Chemistry: In Chemistry, Biology and Macromolecular Science
ISBN: 978-3-527-32085-1
May 2016
400 pages
Product not available for purchase
Description
This timely and much-needed publication highlights the advantages and limitations of the click approach, making this information available in one "easy-to-digest" volume. Edited by the pioneers in the field and with a list of authors reading like the "Who's Who" of click chemistry, the book assembles reviews from practitioners who have used this technique in their research. They span the fields of metal-catalyzed transformations, medicinal and bioorganic chemistry, materials and polymer science.
Equally important for beginners and experienced researchers, this is the definite, first and only reference source for everyone working in the field.
With a preface by Nobel prizewinner Barry Sharpless, the father of click chemistry.
Introduction/Definition of Click Chemistry
Catalytic Azide-Alkyne Cycloaddition and Related Reactions
Fragment-Based Lead Discovery Using In Situ Click-Chemistry
Synthesis of Biologically Relevant Compound Libraries Using Click Chemistry
Applications in Supramolecular Chemistry and Synthesis
Azides in Glycobiology
Bioorthogonal Reactions for Bioconjugation
Enabling Chemistry for Activity-Based Protein Profiling
Dendrimers and Hyperbranched Polymers Via Click Chemistry
Functionalized Polymers Using Click-Chemistry
Surface Modification Via Click-Chemistry
Responsive Polymeric Materials