Clicks and Mortar: Passion Driven Growth in an Internet Driven World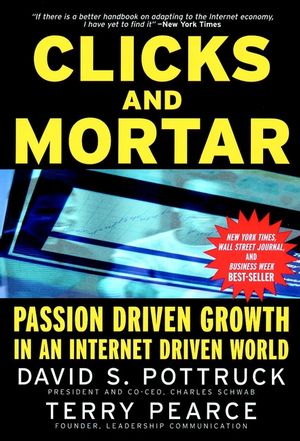 Clicks and Mortar: Passion Driven Growth in an Internet Driven World
ISBN: 978-0-787-95688-2
Apr 2001, Jossey-Bass
352 pages
Description
In a world where companies are rushing to add an "e-" to everything they do--e-commerce, e-tailing--the real key to success still lies off-line. In this fascinating, behind-the-scenes look at the electronic revolution, an inspirational leader and operator and a talented and thoughtful coach and consultant, both engaged in the meteoric rise of The Charles Schwab Corporation, articulate and demonstrate the elements of long-range success. Their take on culture, personal leadership and the transformation of business practices will help leaders, employees, investors, and customers all come out on top in this high-stakes, opportunity rich economy.
For excerpts, Andorsements, detailed author biographies, and more, visit the special Clicks and Mortar website.
CULTURE AT THE CORE: CREATING A PASSIONATE CORPORATE CULTURE IN THE INTERNET AGE.

Building a Culture for Growth.

Sustaining Culture Day to Day.

Cultivating Commitment Through Diversity.

LEADERSHIP PRACTICES: INSPIRING PASSION-DRIVEN GROWTH.

Living Leadership as a Person, as a Company.

Leadership Communication.

Generating Ideas and Innovation Through Leadership.

MANAGEMENT PRACTICES: BRINGING PASSION TO THE INTERNET WORLD.

Creating the Future with Measurement.

Understanding Technology and the People Who Build It.

Marketing: Your Company's Voice, Your People's Promises.

Brand and Customer Experience: The Heart of a Passion-Driven Business.

Dialogue on the Future.

Appendix A: Timeline of Schwab's Growth.

Appendix B: Schwab's Vision, Values, and Strategic Priorities.

Appendix C: Dave's Top Ten Ad Tips.
"The bible for future heroes of e-commerce. It's brilliant and down-to-earth; a fast read, yet deep. This book is the playbook for igniting the power of passion in your business, written by those who have done it." --Scott Cook, founder and executive committee chairman, Intuit, Inc.

"Pottruck and Pearce reveal the secrets to corporate vitality in an upside-down world." --Gary Hamel, chairman, STRATEGOS

"The new Internet economy means high-velocity change and requires extraordinary leadership. Clicks and Mortar emphasizes the courage for the passionate leadership that is needed in this environment . . . a major contribution." --Ann Winblad, co-founding partner, Hummer Winblad Venture Partners

"Gives current and potential business leaders an inspiring road map with which to navigate the inevitable journey into e-commerce. It has perspective, precision, and heart: the necessary attributes of tomorrow's enterprise." --John Quelch, dean, London Business School

"Advice on how to build a corporate culture that weds the spirit and skill of people with the marvels of new technology in a winning business combination." --Laura Tyson, dean, Haas School of Business, University of California, Berkeley

"An instant classic about hands-on leadership." --Management General

"...keeps the readers interest...a very good book, well written by two people who know what they are talking about..." (M2 Communications, 4 July 2001)

"...packed with examples...it is worth attention...some valuable insights..." (e. Business January 2002)