Climate and Society in Colonial Mexico: A Study in Vulnerability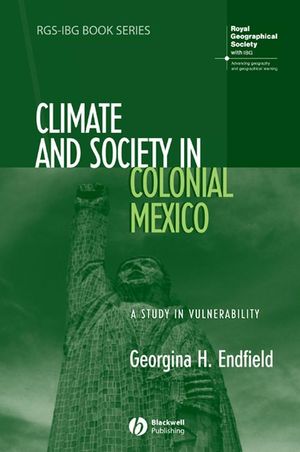 Climate and Society in Colonial Mexico: A Study in Vulnerability
ISBN: 978-1-405-14582-4 February 2008 Wiley-Blackwell 248 Pages
Description
By considering three case study regions in Mexico during the Colonial era,
Climate and Society in Colonial Mexico: A Study in Vulnerability
examines the complex interrelationship between climate and society and its contemporary implications.
Provides unique insights on climate and society by capitalizing on Mexico's rich colonial archives
Offers a unique approach by combining geographical and historic perspectives in order to comprehend contemporary concerns over climate change
Considers three case study regions in Mexico with very different cultural, economic, and environmental characteristics
Table of contents
List of Tables and Figures.
Series Editors' Preface.
Acknowledgements.
1 A Vulnerable Society.
Introduction.
Changing Vulnerabilities.
Climate Change and the 'Double-Sided' Structure of Vulnerability 5
Exploring Climate and Society in Mexico.
Climate History and Vulnerability in Mexico.
Case Studies and Approach.
2 Climate, Culture and Conquest: North, South and Central Mexico in the Pre-European and Contact Period.
Environmental Marginality and Society in the Conchos Basin, Chihuahua.
Guanajuato and the Chichimec Territory.
Power and Political Growth in the Central Valley of Oaxaca.
3 Exploring the Anatomy of Vulnerability in Colonial Mexico.
Introduction.
The Tools of Conquest and Colonization.
The Emergence of Regional Colonial Political Economies.
Climatic Variability and Vulnerability in Colonial Mexico: A Preview.
4 Responding to Crisis: Vulnerability and Adaptive Capacity in Colonial Mexico.
Introduction.
Moral Economic and Institutional Responses to Climate and Crisis in Colonial Mexico.
Speculation and Scarcity: Capitalizing on Climate Knowledge.
Trade in Grains: Providing for the 'Engines' of the Colonial Political Economy.
Tribute, Food Aid and the Supernatural: Appealing to a Common Sense of Loss.
'Compadrazgo', Community Engagement and Public Works.
'Most sensitive and saddening events': Flood Risk and Social Capital Response in Colonial Guanajuato.
'Great floods' and 'Strong winds': Damaging Events, Adaptation and 'Non-Adaptation' in Colonial Oaxaca.
Responding Strategically: Climate, Consciousness and Experimentation.
5 Dearth, Deluge and Disputes: Negotiating and Litigating Water and Climate in Colonial Mexico.
Introduction.
Water and Local 'Everyday Conflicts' in the Country and City.
Regional Resistance: Drought, Disease and Rebellion in Northern Mexico.
Vulnerability, Riots and Rebellions: Rare Events or 'Tipping Points'?
6 Illusory Prosperity: Economic Growth and Subsistence Crisis in the Disastrous Eighteenth Century.
Introduction.
Decline and Depression in Seventeenth-Century Mexico.
Economic Boom and Bust: Absolutism and Globalization in Late Colonial Mexico.
'A time of calamity': A Synthesis of Climate and Crises in Late Colonial Mexico.
From Crisis to Insurrection: Vulnerability and Popular Unrest in the Early Nineteenth Century.
7 Regional, National and Global Dimensions of Vulnerability and Crisis in Colonial Mexico.
Introduction.
Prolonged Drought and the Conditions of Crisis in Late Colonial Chihuahua.
Drought, Risk and the Social Construction of Flooding in the Bajío.
Resilience and the Rare Event: Climate, Society and Human Choice in the Indigenous South.
Crises in Context and Historical 'Double Exposure'.
Closing Comments.
Notes.
Bibliography.
Index.
Reviews
"This impressive archival study on Mexico provides a historical perspective on environmental change and the cultural response in such detail and depth that it will be used by many disciplines as global warming produces more frequent and devastating climate events in Mesoamerica and elsewhere. Summing Up: Highly recommended." (
CHOICE
, February 2009)
"Mexico is well known for its vulnerability to a variety of disasters, ranging from droughts and floods to devastating epidemics. Using extensive archival resources in Mexico and Spain, environmental historian Endfield (Univ. of Nottingham) focuses on three regions with their diverse environments--the Rio Conchos Basin in the state of Chihuahua, Guanajuato and the Chichimec territory, and the Valley of Oaxaca--to compare and contrast the impact of climate crises on the economic and social-political systems of the agrarian Indian and Spanish societies of colonial Mexico from 1521 to 1820. The author discusses climate disasters of the late pre-Hispanic period, as well as the prehistory of the three study regions. Repeated climate events resulted in societal disruption, demographic changes, and conflict. Endfield shows how the societies in these three regions coped with and adapted to the risks and hazards of extreme weather over the centuries. This impressive archival study on Mexico provides a historical perspective on environmental change and the cultural response in such detail and depth that it will be used by many disciplines as global warming produces more frequent and devastating climate events in Mesoamerica and elsewhere." (J. B. Richardson III, University of Pittsburgh, Choice, February 2009) 
Features


Provides unique insights on climate and society by capitalizing on Mexico's rich colonial archives

Offers a unique approach by combining geographical and historic perspectives in order to comprehend contemporary concerns over climate change

Considers three case study regions in Mexico with very different cultural, economic, and environmental characteristics

Offers valuable insights into how different societies articulate knowledge about climate and the environment and how they respond to climatic variability