Clinical Approaches to Tachyarrhythmias, Volume 9, Clinical Aspects of Implantable Cardioverter-Defibrillator Therapy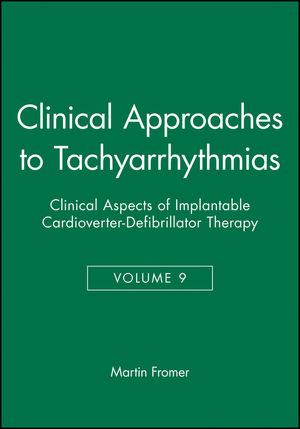 Clinical Approaches to Tachyarrhythmias, Volume 9, Clinical Aspects of Implantable Cardioverter-Defibrillator Therapy
ISBN: 978-0-879-93411-8 January 1999 Wiley-Blackwell 75 Pages
Description
Implantable cardioverter-defibrillator therapy has now become a standard antiarrhythmic treatment, with the consequence that ICD technology is advancing apace. The ICD comes in increasingly smaller sizes, performs a greater range of pacing and defibrillation therapies, is supported by a range of diagnostics and telemetry, and very significantly, the ICD is now generally recognised as a more effective therapy for many arrhythmia patients than antiarrhythmic drugs such as amiodarone.
The aim of the Clinical Approaches to Tachyarryhthmias series is to update the physician, cardiologist, and all those responsible for the the care of patients with cardiac arrhythmias. In this volume, Martin Fromer reviews the current status of the implantable defibrillator, recent technical developments, and indications for its use.
Table of contents
Foreword
A. J. Camm
Preface
A. J. Camm
Introduction
Sudden Cardiac Death
Michel Mirowski
Indications and Guidelines for ICD Therapy
ICD Therapies
Some Considerations Related to the Debrillation Threshold
Work-Up Before ICD Implantation
ICD Implantation
Perioperative and Postoperative Management of the ICD Patient
End Points in ICD Studies
Follow-up of Devices and Patients
Interaction of Pacemaker and ICD
ICD Trials: An Empiracally Effective Therapy Has Found Scientific Grounds
Driving in ICD Patients
Future Outlook
References
Index
Reviews
"This text provides a short but good review of the subject of intracardiac defibrillator implantation and the clinical data that support its use....This monograph on intracardiac defibrillator therapy is a worthy addition to the series on clinical approaches to tachyarrhythmias."
Doody's Review Service
"For those looking for a relatively brief, up-to-date overview, Clinical Aspects of Implantable Cardioverter-Defibrillator Therapy is a nice addition to the bookshelf or briefcase."

Canadian Journal of Cardiology
"The book is certainly a resource for fellows and faculty in electrophysiology and also for the cardiology fellow in clinical training, provided that he/she already has some knowledge of the subject."
PACE
Features


extensive references for in depth lecture of the original articles

nicely illustrated with figures that are pertinent to this type of therapy

tables that summarize data of the literature

many practical hints to avoid troubles in ICD therapy

a review of the scientific background of ICD therapy.
The format of the booklet allows to be carried easily along and to be read in the plane or during commuting to work