Clinical Arrhythmology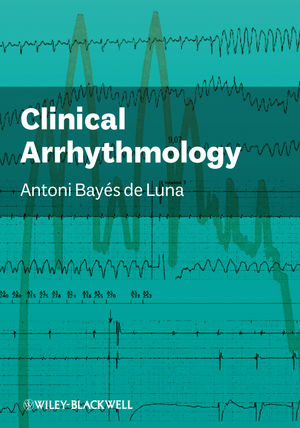 Clinical Arrhythmology
ISBN: 978-1-444-39173-2
Feb 2011, Wiley-Blackwell
440 pages
Description
The study and management of abnormal heart rhythms is the core of Electrophysiology, but the successful identification and management of arrhythmias is important to a much wider range of physicians, from trainees in cardiology to general clinical cardiologists to practitioners in other areas of specialization, for example internists. 

This book is a thorough overview of clinical arrhythmology designed to help general clinical cardiologists and trainees in the fields of clinical cardiology and electrophysiology achieve the competency they need for clinical practice or for further specialization in the topics covered within the book. 
Foreword by Dr. Valentin Fuster.
Foreword by Dr. Pere Brugada i Terradellas.
Preface.
Recommended General Bibliography.
PART I Anatomical and Electrophysiological Considerations, Clinical Aspects, and Mechanisms of Cardiac Arrhythmias.
Chapter 1 Clinical Aspects of Arrhythmias.
Chapter 2 Anatomic and Electrophysiologic Basis.
Chapter 3 Electrophysiologic Mechanisms.
PART II Diagnosis, Prognosis and Treatment of Arrhythmias.
Chapter 4 Active Supraventricular Arrhythmias.
Chapter 5 Active Ventricular Arrhythmias.
Chapter 6 Passive Arrhythmias.
Chapter 7 Analytical Study of an Arrhythmia.
PART III The ECG and Risk of Arrhythmias and Sudden Death in Different Heart Diseases and Situations.
Chapter 8 Ventricular Pre- Excitation.
Chapter 9 Inherited Heart Diseases.
Chapter 10 Other ECG Patterns of Risk.
Chapter 11 Arrhythmias in Different Heart Diseases and Situations.
Appendix.
A-1 Introduction.
A-2 Calculation of sensitivity, specificity, and predictive value.
A-3 Diagnostic techniques.
A-4 Therapeutic techniques.
A-5 Antiarrhythmic agents.
A-6 Classification of the recommendations for diagnostic and therapeutic procedures and level of evidence (AHA/ESC/ACC Guidelines).
References.
Index.