Clinical Behavior Therapy: Adults and Children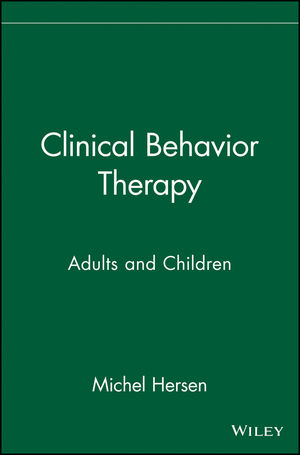 Clinical Behavior Therapy: Adults and Children
ISBN: 978-0-471-39258-3 April 2002 528 Pages
Description
A timely clinical resource on the most widely used treatmentapproach

Edited by Michel Hersen, a recognized expert in the field, ClinicalBehavior Therapy provides up-to-the-minute information on bothtraditional and current issues surrounding the treatment of child,adolescent, and adult disorders. Featuring an impressive list ofcontributors on the cutting edge of behavior therapy research, thisvaluable resource aids clinicians in achieving the most commongoals in performing psychotherapy with adults and children,including describing the case succinctly, determining the bestmethod to assess the client, dealing with complications during thecourse of treatment, ensuring continuation of therapeutic gains,and assessing overall treatment effectiveness.

Topics covered include:
* Major depressive disorder
* Panic and agoraphobia
* Posttraumatic stress disorder
* Bulimia nervosa
* Borderline personality disorder
* Alcohol abuse
* Marital dysfunction
* Childhood depression
* Obsessive-compulsive disorder
* Social phobia
* Anorexia nervosa
* Conduct disorder
* Mental retardation
* Elimination disorder

Along with a description of each disorder and chief complaints,every chapter addresses behavioral assessment, medicalconsultation, the course of treatment, therapist/client factors,and recommendations on termination and follow-up. Also consideredare the more contemporaneous issues, such as managed care, caseconceptualization, and rationale for treatment choice. The text'sattention to the increased emphasis on accountability, assessment,clear conceptuali-zation, and treatment effectiveness makesClinical Behavior Therapy a vital contribution to the field.
Preface.

PART I: ADULTS.

Behavioral Case Conceptualization for Adults (P. Truax).

Major Depressive Disorder (K. Dobson & N. Khatri.

Panic and Agoraphobia (J. DeCola & M. Craske).

Specific Phobia (J. Kamphuis, et al.).

Social Phobia (D. McNeil, et al.).

Posttraumatic Stress Disorder (M. Gray & R. Acierno).

Generalized Anxiety Disorder (M. Dugas).

Bulimia Nervosa (J. Mizes & D. Zotter-Bonifazi).

Borderline Personality Disorder (S. Kim, et al.).

Alcohol Abuse (P. Stasiewicz & C. Bradizza).

Sexual Dysfunction (B. McCarthy).

Marital Dysfunction (G. Birchler & W. Fals-Stewart).

PART II: CHILDREN AND ADOLESCENTS.

Behavioral Case Conceptualization for Children and Adolescents (K.Freeman & C. Miller).

Childhood Depression (W. Reynolds).

Obsessive-Compulsive Disorder (M. Franklin, et al.).

School Refusal and Separation Anxiety (S. Mattis & T.Ollendick).

Social Phobia (C. Kearney & K. Drake).

Anorexia Nervosa (D. Garner & C. Magana).

Posttraumatic Stress Disorder (J. Scotti, et al.).

Conduct Disorder (C. Roach & A. Gross).

Attention-Deficit/Hyperactivity Disorder (D. Reitman & S.Hupp).

Mental Retardation (C. Johnson).

Elimination Disorder (C. Holland-Johnson, et al.).

Child Sexual Abuse (E. Hsu, et al.).

Alcohol and Drug Abuse (H. Waldron, et al.).

Author Index.

Subject Index.
"Overall, the book represents a strong choice as a text for use inthe clinical training of mental health professionals."(Contemporary Psychology, April 2004; Vol.49, No.2)

"Overall, this casebook has achieved status as a new benchmarkof excellence in the field of psychology." (PsychiatricServices, Vol. 54 No.9, September 2003)