Clinical Care Conundrums: Challenging Diagnoses in Hospital Medicine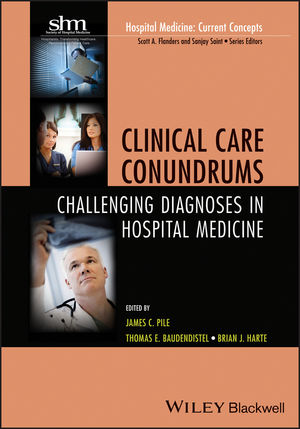 Clinical Care Conundrums: Challenging Diagnoses in Hospital Medicine
ISBN: 978-0-470-90565-4 March 2013 Wiley-Blackwell 208 Pages
Description
Introducing the first evidence-based casebook for hospital clinicians
This book introduces illustrated, evidence-based clinical cases drawn from real-world hospital practice. Geared to the needs of hospital clinicians, Clinical Care Conundrums: Challenging Diagnoses in Hospital Medicine focuses on sharpening clinical reasoning and diagnostic skills, giving readers the tools to recognize and diagnose a wide array of diseases, while promoting diagnostic safety in hospital medicine.
Written by leading experts on the topics under discussion, this volume offers a hand-picked collection of case studies from the widely popular Clinical Care Conundrum (CCC) series found in the Journal of Hospital Medicine. Each chapter presents a case to an expert clinician, who explains his or her approach to diagnosing challenging medical dilemmas. Each chapter concludes with a concise review of recent literature and, if applicable, with discussions of cognitive errors that may impact clinical diagnosis and patient care. Readers will find:
An appealing presentation style that combines high-quality images and text
Coverage of both common conditions and uncommon but important diseases encountered in the hospital setting
A look at the state of the art of clinical reasoning, an area of critical interest to clinicians
Practical "pearls" for each case study that readers can apply in their own practice
Clinical Care Conundrums is an indispensable reference for hospitalists, hospital-based physicians and midlevel providers, physicians-in-training, and the many other medical practitioners who come up against difficult cases on a daily basis.
PREFACE ix
CONTRIBUTORS xi
CHAPTER 1 INTRODUCTION TO CLINICAL CARE CONUNDRUMS IN HOSPITAL MEDICINE 1
Robert M. Wachter
CHAPTER 2 IMPROVING DIAGNOSTIC SAFETY IN HOSPITAL MEDICINE: CAN CLINICAL CARE CONUNDRUMS HELP? 5
Edward E. Etchells, Kaveh G. Shojania, and Donald A. Redelmeier
CHAPTER 3 CRACKING THE CASE 19
Jennei Wei, Patrick P. Kneeland, and Gurpreet Dhaliwal
CHAPTER 4 A MIDLIFE CRISIS 27
Jennifer R. Lukela, Rajesh S. Mangrulkar, Lawrence M. Tierney Jr., John Del Valle, and Sanjay Saint
CHAPTER 5 FISHING FOR A DIAGNOSIS 35
Colin R. Cooke, John V. L. Sheffield, and Jan V. Hirschmann
CHAPTER 6 A RASH DECISION 43
Brian J. Harte, Gurpreet Dhaliwal, Wendy Armstrong, and James C. Pile
CHAPTER 7 ONE HUNDRED YEARS LATER 51
Thomas E. Baudendistel, Nima Afshar, and Lawrence M. Tierney Jr.
CHAPTER 8 THE THIRD TIME'S THE CHARM 59
Sara Mekuria, Esteban Cheng Ching, S. A. Josephson, Jinny Tavee, and Brian J. Harte
CHAPTER 9 A FRAYED KNOT 69
Thomas E. Baudendistel, Irena L. Ilic, and Harry Hollander
CHAPTER 10 BETTER LATE THAN NEVER 77
Anuradha Ramaswamy, Maytee Boonyapredee, Ramakrishnan Ranganath, Brian J. Harte, and James C. Pile
CHAPTER 11 THINKING INSIDE THE BOX 87
Damon M. Kwan, Gurpreet Dhaliwal, and Thomas E. Baudendistel
CHAPTER 12 ARE WE THERE YET? 95
Lisa H. Williams, Gregory J. Raugi, Gurpreet Dhaliwal, Sanjay Saint, and Benjamin A. Lipsky
CHAPTER 13 A DISTINGUISHING FEATURE 105
Sanjiv J. Shah, Aubrey O. Ingraham, Sandra Y. Chung, and Richard J. Haber
CHAPTER 14 CONSEQUENCES OF MISSED OPPORTUNITIES 113
Julia C. Dombrowski, Helen Kao, Natasha Renda, and R. J. Kohlwes
CHAPTER 15 IN SIGHT BUT OUT OF MIND 121
Letizia Attala, Adam Tremblay, Giampaolo Corti, Sanjay Saint, and Alessandro Bartoloni
CHAPTER 16 A CHANGE OF HEART 127
Jonathan P. Piccini, Adrian F. Hernandez, Louis R. Dibernardo, Joseph G. Rogers, and Gurpreet Dhaliwal
CHAPTER 17 MISSING THE FOREST FOR THE TREES 137
Satish Gopal, James C. Pile, and Daniel J. Brotman
CHAPTER 18 A PAIN IN THE BONE 143
John Fani Srour, Julia Braza, and Gerald W. Smetana
CHAPTER 19 A DIAGNOSIS OF EXCLUSION 153
Iris O. Yung, Thomas E. Baudendistel, and Gurpreet Dhaliwal
CHAPTER 20 MAKING A LIST AND CHECKING IT TWICE 161
Satyen Nichani, Sandro Cinti, and Jeffrey H. Barsuk
CHAPTER 21 CAUGHT IN THE WEB: E-DIAGNOSIS 169
Yasuharu Tokuda, Makoto Aoki, Saurabh B. Kandpal, and Lawrence M. Tierney Jr.
CHAPTER 22 IN THE FACE OF IT ALL 177
Amit Garg, Thomas E. Baudendistel, and Gurpreet Dhaliwal
INDEX 185
"Clinical Care Conundrums is an indispensable reference for hospitalists, hospital-based physicians and midlevel providers, physicians-in-training, and the many other medical practitioners who come up against difficult cases on a daily basis."  (Kingbook73's Medical Ebook and Video Collection, 15 September 2014)
"This book and this format are exceptional. It pushes readers in a way they have not usually experienced since their training days. It is challenging and refreshing at the same time. Congratulations to the editors for bringing a new perspective to life-long learning."  (Doody's, 1 November 2013)