Clinical Child and Adolescent Psychology: From Theory to Practice, 3rd Edition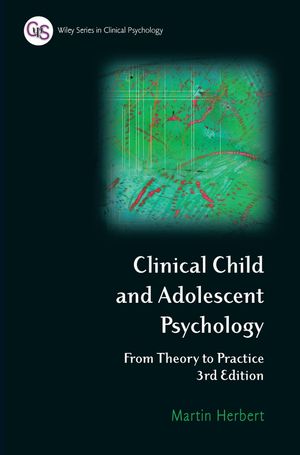 Clinical Child and Adolescent Psychology: From Theory to Practice, 3rd Edition
ISBN: 978-0-470-71333-4 May 2008 392 Pages
Description
Theoretical and practice-oriented,Clinical Child and Adolescent Psychology offers a concise, comprehensive, review of the knowledge, concepts and practice of child and adolescent clinical psychology.

This fully revised and updated edition of 'Clinical Child Psychology ', now incorporates a fuller account of the range of clinical problems of adolescence, together with an expanded account of the major developmental and psychosocial disorders, such as autism, ADHD, and conduct disorder. Each chapter considers a different category of problem or disorder, and covers issues of diagnosis, clinical and developmental features, causes, interventions and outcomes.
Now covers adolescence as well as childhood
Updated coverage of major developmental disorders
Included in the Wiley Series in Clinical Psychology
About the Author.
Preface.
Acknowledgements.
Organisation of the Book.
Part I: Introduction – The Nature of the Problem.
Chapter 1: Clinical Diagnosis and Assessment: Theoretical Considerations.
Chapter 2: Clinical Assessment: Theory into Practice.
Chapter 3: Psychiatric and Psychosocial Treatment: Part I Early Interventions.
Chapter 4: Psychiatric and Psychosocial Treatment: Part II Contemporary Approaches.
Part II: From Conception to the Preschool Period.
Chapter 5: Prenatal to Perinatal Development.
Chapter 6: Infant Development.
Chapter 7: Problems of the Preschool Period (15 Months to 5 or 6 Years).
Part III: The School-Going Period: Externalising and Internalising Problems.
Chapter 8: The School-Going Period: Externalising Problems.
Chapter 9: The School-Going Period: Internalising Problems.
Part IV: Adolescence to Young Adulthood.
Chapter 10: Early Adolescence (11 Years to 14 or 15).
Chapter 11: The Transition from Adolescence into Young Adulthood (Ages 14
to 18).
Part V: Developmental Disorders, Serious Illness and Trauma.
Chapter 12: Developmental Disorders.
Chapter 13: Chronic Disability and Illness: Health Care Problems.
Chapter 14: Traumatic Conditions and Experiences of Childhood.
Epilogue.
Appendix I.
Appendix II.
Appendix III.
Appendix IV.
Appendix V.
References.
Index.