Clinical Communication Handbook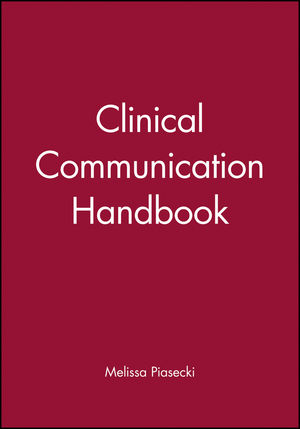 Clinical Communication Handbook
ISBN: 978-0-632-04646-1 July 2002 Wiley-Blackwell 120 Pages
Description
Communication is a critical skill in clinical practice and sometimes not emphasized in medical education. Effective communication skills ease the pressure in dealing with difficult or even "typical" patients and will make your patients feel more comfortable with you.

Clinical Communication Handbook can become an essential part of your physician-patient education. Learn how to be a better communicator through the use of vignettes, dialog boxes, and evidence-based information.
1. Communication Is Critical.
The evidence for how communication skills can improve medical outcome, patient satisfaction and reduce malpractice suits.
.
2.Getting Started.
Creating a good first impression: the basics on professional appearance and behavior.
3. About Time.
How to most effectively use the first 2 minutes and manage time during each interview.
4. Engage.
Joining with the patient and obtaining the "agenda".
5. Empathize.
Learning to understand and participate in the patient's feelings.
6. Educate.
Identifying and anticipating patient's information needs.
7. Enlist.
Using collaborative techniques to improve adherence and outcome.
.
8. Getting Feedback.
Using supervisors, colleagues, videotape, and patients to refine communication skills.
9. Special Situations.
English as a second language.
Working with cultural differences.
Giving bad news.
The anxious, tearful or angry patient.
Managing psychiatric problems.
Difficult patient relationships.
Index.
Early praise for Clinical Communication Handbook!
"Information from this book provides invaluable information for any medical professional that communicates with patients. The information can be used as a personal assessment tool or as a book full of recommendations when dealing with patients." -Derek Wayman, Third year medical student

"I think this book hits home many points on presentation, subtle body language and communication with patients.I have heard scattered points and advice from different physicians, but nothing on a scale like this, which starts from A and goes to Z."- Keith Chan, Third year medical student

"This book is probably one of the more useful things I've read in the past few months, medical journals included! We spend at least 7 years learning how to be a doctor, but precious few minutes learning how to communicate effectively as a doctor. These principles can streamline your practice, make your days easier (and shorter), decrease your chances of ending up in court, and above all, help your patient to feel more comfortable."- Brandon Johnson, MD, Internal Medicine resident

*Contains over 40 dialog boxes that give you specific examples on how to effectively communicate
*Fits in your pocket for a quick review anytime
*Key points at the end of every chapter highlight important information you need to remember
*Your best review for the clinical skills assessment examination