Clinical Data Management, 2nd Edition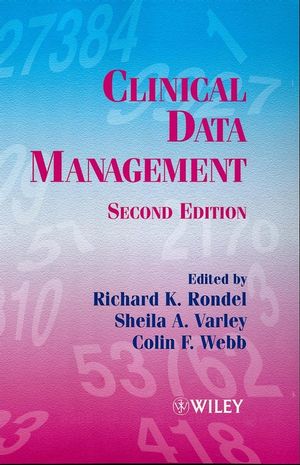 Clinical Data Management, 2nd Edition
ISBN: 978-0-471-98329-3 February 2000 366 Pages
Description
Extensively revised and updated, with the addition of new chapters and authors, this long-awaited second edition covers all aspects of clinical data management. Giving details of the efficient clinical data management procedures required to satisfy both corporate objectives and quality audits by regulatory authorities, this text is timely and an important contribution to the literature.

The volume:

* is written by well-known and experienced authors in this area

* provides new approaches to major topics in clinical data management

* contains new chapters on systems software validation, database design and performance measures.

It will be invaluable to anyone in the field within the pharmaceutical industry, and to all biomedical professionals working in clinical research.
Table of contents
Chapter Review (S. Cummings).

The International Conference on Harmonisation and its Impact (B. Smith & L. Heywood).

Case Report Form Design (M. Avey).

Data Capture (E. Waterfield).

Planning and Implementation (C. Thomas).

Data Validation (P. Patel).

Quality Assurance and Clinical Data Management (H. Campbell & J. Sweatman).

Performance Measures (J. Wood).

Data Presentation (M. Mehra).

Coding of Data-MedDRA and other Medical Terminologies (E. Brown & L. Wood).

Database Design Issues for Central Laboratories (T. Tollenaere).

Computer Systems (L. Palma).

Systems Software Validation Issues-Clinical Trials Database Environment (S. Hutson).

Re-engineerng the Clinical Data Management Process (S. Arlington, et al.).

Working with Contract Research Organizations (K. Buchholz).

Data Management in Epidemiology and Pharmacoeconomics (M. Ryan & A. Pleil).

Future Revisited (R. Lane).

Index.
Reviews
"The key to enduring research is data quality and data quality depends upon data management. How fortunate then that the start of the New Millennium sees the publication of the second edition of 'Clinical Data Management'. ... Admirably concise and authoritatively penned, it provides an excellent introduction to a subject at the heart of pharmaceutical R&D.", Dr Hugh Boardman, Partner in Boardman Clarke, Pharmaceutical Physician#