Clinical Diagnostic Ultrasound, 2nd Edition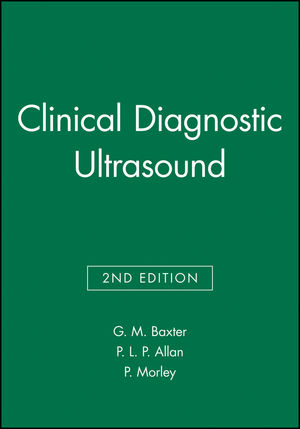 Clinical Diagnostic Ultrasound, 2nd Edition
ISBN: 978-0-632-03744-5
Sep 1999, Wiley-Blackwell
704 pages
Description
The first edition of Clinical Diagnostic Ultrasound provided, in a single volume, a comprehensive grounding in the use of ultrasound for radiologists and sonographers. In this new edition, the Editors have gone to great lengths to ensure that the latest techniques are dealt with in detail. There are many new sections including ultrasound in orthopaedics, investigation of infertility, and ultrasound in guided interventional procedures. The final section of the text is devoted to the latest technical developments in this fast-moving discipline, which includes intravascular ultrasound, three-dimensional ultrasound and guidance on ultrasound contrast agents.
List of Contributors.
Foreword.
Preface.
Acknowledgements.
1. Medical ultrasound-germination and growth (J.E.E. Fleming, I. H. Spencer and M. Nicolson).
Part 1: Instrumentation.
2. Grey-scale imaging (S.D.Pye and P.R. Hoskins).
3. Spectral Doppler systems (P.R. Hoskins).
4. Flow imaging (P.J. Fish).
5. The physics of blood flow (P.R. Hoskins).
6. Safety issues in diagnostic ultrasound (P.N.T. Wells).
7. Ultrasound contrast agents and recent developments (C.M. Moran, W.N. McDicken and G.R. Sutherland).
Part 2: Echocardiology.
8. Congenital heart disease (A. Houston and S. Lilley).
9. Valvular heart disease (J.C. Rodger).
10. Left ventricular Function (T. McDonagh).
11. Cardiomyopathies and pericardial disease (C.A. Roobottom and P. Wilde).
12. Prosthetic valve function (T.J. Edwards and I.A. Simpson).
13. Cardiac Masses (J. Weir).
14. Transoesophageal echocardiography (A. Deaner).
15. Intravascular echography (C. di Mario, N. Bom, W. Li and A.F.W. van der Steen).
Part 3: Vascular System.
16. Carotid imaging and plaque morphology (P.S. Sidhu, J.P. Woodcock, S. Gorman and N. Pugh).
17. Transcranial Doppler ultrasound (J.M. Wardlaw).
18. The peripheral arterial system (P.L.P. Allan and G.M. Baxter).
19. The Peripheral venous system (G. M. Baxter).
20. The abdominal vasculature (G.M. Baxer).
Part 4: Small Parts.
21. The breast (D.O. Cosgrove).
22. Thyroid, Parathyroid and Salivary glands (K.C. Dewbury).
23. The testes and scrotum (K.C. Dewbury).
24. The eye and orbit (N.C. McMIllan and G.M. Baxer).
Part 5: Abdomen.
25. The liver (H. Meire and P. Farant).
26. The biliary tree and pancreas (K.M. Carroll).
27. Endoluminal ultrasound of the upper gastrointestinal tract (D.A. Nicholson).
28. Endoluminal ultrasound of the lower gastrointestinal tract (C.J. Bartram).
29. General principles of biopsy and drainage (H.C. Irving).
30. The kidneys (P.L.P. Allan and S.A. Moussa).
31. Renal transplantation (R.S.C. Rodger and G.M. Baxer).
Part 6: Pelvis.
32. The lower urinary tract and prostate (S.A. Moussa).
33. The female pelvis (L.M. Macara and K.P. Hanretty).
Part 7: Obstetrics.
34. Introduction (J.R. MacKenzie).
35. Fetal biometry (J.R. MacKenzie).
36. The first trimester (J.R. MacKenzie).
37. Fetal anomaly scanning (J.R. MacKenzie).
38. Fetal malformations (J.R. Mackwnzie).
39. Antenatal assessment of fetal health (A.M. Mathers).
40. Invasive parental diagnostic techniques (A.M. Mathers).
41. Sonographic examination of the placenta (A.M. Mathers).
42. Multiple pregnancies (J.R. MacKenzie).
43. Maternal problems during and following pregnancy (J.R. MacKenzie).
Part 8: Pediatrics.
44. The brain (A.S. Hollman).
45. The abdomen (P.R. John).
Part 9: Musculoskeletal System.
46. The musculoskeletal system (E.G. McNally).
Index.
"It is a testament to the British contribution to diagnostic ultrasound and provides a historical perspective and solid grounding in the subject for trainee radiologists. With foundations for a standard British textbook of diagnostic ultrasound now laid, it should be possible to produce an expanded second edition with a much shorter gestation period. This would be received even more favourable".

British Medical Journal

"This is an excellent and comprehensive text book of ultrasound, 600 pages long, with excellent binding and high quality paper and prints"

Irish Medical Journal.
"All in all, this is a definitive one volume exposition of the present situation in the use of ultrasound in clinical diagnosis, and the only drawback with the book is the price. However, it would be an essential addition to any library of any practitioner or diagnostic ultrasound at the present time. It is very good for the learner, for the sonographer and the practising radiologist. In two words, highly recommended"
Australasian Radiology
"For those teaching the physics and technology of ultrasound, the book will provide a useful insight into the full range of clinical areas that students will be studying". (IPEM Scope)
* in colour for the first time; greatly improved illustrations
* includes new techniques such as endosonography
* new section on musculoskeletal system

* "It is a testament to the British contribution to diagnostic ultrasound and provides a historical perspective and solid grounding in the subject for trainee radiologists. ." British Medical Journal

* "This is an excellent and comprehensive text book of ultrasound..." Irish Medical Journal

* "In two words, highly recommended."
Australasian Radiology