Clinical Dilemmas in Inflammatory Bowel Disease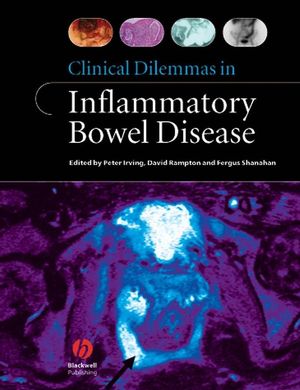 Clinical Dilemmas in Inflammatory Bowel Disease
ISBN: 978-0-470-75028-5
Apr 2008, Wiley-Blackwell
264 pages
Description
Evidence-based guidance to answer more than 60 controversial clinical questions on inflammatory bowel disease
Clinical Dilemmas in Inflammatory Bowel Disease is a practical handbook providing quick but detailed answers to the questions and challenges that you are faced with daily in the clinical setting.

Each short chapter addresses a different topic and provides evidence-based guidance on subjects ranging from optimising current management through to special management problems and novel treatments.

This book is suitable for all medical professionals involved in the care of patients with IBD: established and trainee gastroenterologists, colorectal surgeons, pathologists, radiologists, specialist nurses, pharmacists, dieticians and counsellors
List of Contributors.
Preface..
Part 1 Investigating IBD in the 21st Century.
1 Capsule endoscopy: do we need it (Joel E D Mawdsley & Mark Appleyard).
2 Pathology reports – pitfalls for the unwary (Wilfred Weinstein).
3 Non-invasive diagnosis and assessment (Alex J Di Mambro, Ana Terlevich & Chris Probert).
4 What is the best way to image perianal Crohn's disease (Vikram A Sahni & Alison McLean).
5 Surveillance colonoscopy in UC: alternatives and ways to improve outcome (Mark Lust & William Connell).
6 Abnormal liver tests – what should we do about them (Richard Marley & Abid Suddle).
Part 2 Medical Treatment: Making the Most of What We've Got.
5-ASA drugs.
7 Is monitoring necessary (Rakesh Shah & Alastair Forbes).
8 Do they have a role in Crohn's disease (Vikrant Sibartie & Brian Feagan).
Steroids.
9 Steroids in Crohn's: are they obsolete (David Rampton).
Antibiotics for Crohn's disease.
10 Antibiotics: which, when and for how long (Alex Kent & Jean-Frédéric Colombel).
11 Mycobacterium avium paratuberculosis in Crohn's disease: player or spectator (Geoff Smith & Fergus Shanahan).
Immunomodulators.
12 TPMT testing: is it essential (Azhar Ansari & Jeremy D Sanderson).
13 6-Mercaptopurine or azathioprine (Dermot McGovern & Simon Travis).
14 Thiopurines: how long should we use them for (Alexandra Daley & Marc Lémann).
15 Making the most of methotrexate (Emma Greig, John Keohane & Brian Feagan).
16 Cyclosporine: balancing risk and benefit (Helena Deeney & Barney Hawthorne).
Infliximab.
17 Contraindications – absolute or relative (Rakesh Chaudhary & Subrata Ghosh).
18 How can we prevent tuberculosis (Sasha Beresford & David Rampton).
19 Dealing with infusion reactions (Gert Van Assche, Séverine Vermeire & Paul Rutgeerts).
20 Use in ulcerative colitis (Sreedhar Subramanian & Jonathan Rhodes).
21 Infliximab and surgery: health or hazard (David Rampton).
Nutritional therapy for Crohn's disease.
22 Nutritional therapy for Crohn's disease: is it for adults (Donald R Duerksen & Charles N Bernstein).
Part 3 Medical Treatment: What's Round the Corner?.
23 Trials and tribulations – interpreting clinical trials in IBD (Elizabeth Carty & David Rampton).
24 Genetics – clinical and therapeutic applications (Mark Tremelling & Miles Parkes).
25 Probiotics – separating science from snakeoil (Fergus Shanahan & John Keohane).
26 Worms (David Grunkemeier & R Balfour Sartor).
27 Smoking and nicotine – poison for Crohn's, potion for colitis (Brian Bressler & A Hillary Steinhart).
28 Heparin (Ailsa Hart & Stuart Bloom).
29 Leukocytapheresis: filtering out the facts (Peter Irving & David Rampton).
30 Appendectomy for ulcerative colitis – a therapeutic option (Richard Makins & Graham Radford-Smith).
31 Biologic treatments in IBD (Raymond D'Souza & James Lindsay).
32 Stem cell transplantation for IBD (Paul Fortun & Christopher Hawkey).
33 Complementary and alternative therapy – the way forward or a step back (Louise Langmead & David Rampton).
Part 4 Common Clinical Challenges: Beyond the Text Book.
34 Functional problems (Eamonn Quigley).
35 Psychological stress: something to worry about (Joel E D Mawdsley & David Rampton).
36 Drugs to avoid (Paul Collins & Jonathan Rhodes).
37 NSAIDs and COX-2 selective agents: cause or cure of pain in IBD (Ingvar Bjarnason & David Scott).
38 Iron replacement – is it safe and effective (Stefanie Kulnigg & Christoph Gasche).
39 Hepatitis B and C viruses – how do they affect management of IBD (Graham R Foster & Alick N S Nkhoma).
40 Pregnancy: what drugs can we use (Thea Thomas & Elspeth Alstead).
41 How to prevent growth failure in children (Jutta Köglmeier & Nick Croft).
42 Predicting outcomes in severe UC. .
Simon Travis.
43 Refractory proctitis (Anne Ballinger & Richard Makins).
44 CMV co-infection – does it matter (Daan Hommes).
45 Treatment of oral Crohn's disease (Carlo Nunes, Michael Escudier & Jeremy D Sanderson).
46 Pathophysiologic approach to treatment of diarrhea in Crohn's disease (Henry J Binder).
47 Short bowel (Jeremy Nightingale).
48 Management of internal fistulae (David Rampton).
49 What is indeterminate colitis (Garret Cullen & Diarmuid O'Donoghue).
50 Pouches for indeterminate colitis (Laura Hancock & Neil Mortensen).
51 Colitis-associated cancer: what's the risk to your patients (Jayne Eaden).
52 What to do with dysplasia, DALMs, and adenomas (Matt Rutter).
Part 5 Managing IBD Outside the Gut.
53 Pyoderma gangrenosum (Ana Paula Cunha & Fernando Tavarela Veloso).
54 Arthritides – helping the joints without harming the gut (Horace Williams & Tim Orchard).
55 Prevention and treatment of osteoporosis (Richard Makins & Juliet Compston ).
56 Sclerosing cholangitis – what to do (Sue Cullen & Roger Chapman).
57 Thromboembolic disease: an under-recognized complication (Peter Irving & Fergus Shanahan).
58 Pulmonary manifestations: rare but real (Peter Irving).
Part 6 Are You Sure it's IBD?.
59 Intestinal infections: mimics and precipitants of relapse (Sunil Samuel & Yashwant Mahida).
60 Microscopic colitis (Debbie Nathan & Peter Gibson).
61 Diverticular colitis (Linmarie Ludeman & Neil A Shepherd).
Part 7 The IBD Service: Time for a Rethink?.
62 Outpatient services – do doctors still have a role (Mark Kelly & Andrew Robinson).
63 Shared care: tactical team selection (Reshma C Rakshit & John Mayberry).
64 Databases – are they worth the bother (Stephen L Grainger).
Index
"I particularly enjoyed the chapter on managing inflammatory bowel disease in the context of hepatitis B and C, and the pithy and informed reviews on probiotics, heparin and the role of stress, which will be of value to all doctors (and surgeons) managing these desease...This volume will provide a useful synopsis and introduction to the literature for many of the problems that are encountered on a daily basis whether in the clinic or on the ward."
Gut
"This book is a successful compendium of clinical wisdom and common sense approaches...the editors have achieved admirably their goal of a "user-friendly" IBD resource for the busy clinician dealing with the demands of an IBD patient."
Gastroenterology

"It is a fantastic book...to have in a busy clinic or on the ward which will also provide references for further reading around the subject at a more leisurely ace away from the busy workplace."
TiGs

"This concise and very readable text is great for all involved in looking after IBD patients from GPs and practise nurses, to nurse practitioners and SpRs. It highlights many current hot topics and provides the evidence for the conclusions drawn. Each chapter is easily read between patients and references the places to go for a more extensive review of the topics in question. A great summary of subjects in the field, it doesn't pretend to be a comprehensive text."
Doctor on Amazon.co.uk

"Everyone...will doubtless learn about several important points [...] and this is probably an ideal invitation to further deepen his knowledge. A very pleasant, modern book which will be appreciated by established and trainee gastroenterologists, colorectal surgeons, radiologists, dieticians and in general by all doctors involved in the care of IBD patients."
Digestive and Liver Disease

"It is well written, with a useful 'Learning Points' section at the beginning of each chapter. The topics have been chosen to give broad coverage across the spectrum of IBD, incorporating problems such as nutrition, pathology interpretation and service provision. Many of these will be helpful to juniors encountering specific difficulties for the first time and will perhaps persuade old hands to review the way they practice. Some will amuse as well as educate, such as the chapter on the use of worms in IBD.

This is a book to dip in and out of. Pick it up and see what interests you that day. There will be sections that you haven't thought about in ages. Spending ten minutes to read a chapter on the evidence for management of DALMs may affect what you do in the endoscopy room that afternoon."
Doctors.net.uk
Topical clinical questions to help with the daily challenges in IBD


Short chapters provide a quick reference for questions faced by the medical team

Offers evidence-based guidance in IBD

Discusses special management problems, novel treatments and optimising current management