Clinical Guide to the Diagnosis and Treatment of Mental Disorders, 2nd Edition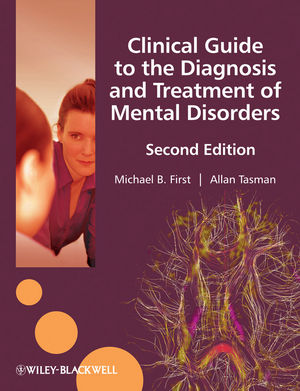 Clinical Guide to the Diagnosis and Treatment of Mental Disorders, 2nd Edition
ISBN: 978-1-119-96463-6 August 2011 558 Pages
Description
Two key challenges face mental health practitioners: making the correct psychiatric diagnosis and choosing the most appropriate treatment option. This book aims to help with both.

Clinical Guide to the Diagnosis and Treatment of Mental Disorders - Second Edition combines clinically-relevant information about each of theDSM-IV-TR diagnoses with clear, detailed information on treatment options, giving full clinical management advice. Once again, the editors, both leading psychiatrists, have condensed the chapters on Disorders from Tasman et al's acclaimed two volume textbook of Psychiatry (now in its Third Edition), retaining only the content they deem particularly relevant to the clinician for ease of use.

Each disorder is discussed under the headings of Diagnosis (including Assessment Issues, Comorbidity, Course, and Differential Diagnosis, giving diagnostic decision trees where relevant) and Treatment (listing all therapeutic options, giving practical advice for patient management, summarising treatment specifics with tables and treatment flowcharts).

The original edition established itself as the first point of reference for any clinician or mental health practitioner needing expert advice on therapeutic options for any psychiatric disorder. This edition features an additional chapter on the psychiatric interview and assessment of mental status to increase its utility.

It echoes the progress in psychiatry regarding the establishment of an evidenced-based model of taxonomy, diagnosis, etiology, and treatment. Indeed, from a psychologist's perspective, the equal consideration provided to empirically supported psychosocial treatments versus somatic treatment is a significant development in the field of psychiatry.

Jonathan Weinand in PsycCritiques, the American Psychological Association Review of Books
Chapter 1 The Psychiatric Interview.
Chapter 2 Childhood Disorders: Intellectual Disability.
Chapter 3 Childhood Disorders: Learning and Motor Skills Disorders.
Chapter 4 Childhood Disorders: Communication Disorders.
Chapter 5 Childhood Disorders: The Pervasive Developmental Disorders.
Chapter 6 Childhood Disorders: Attention-Deficit and Disruptive Behavior Disorders.
Chapter 7 Childhood Disorders: Feeding and Related Disorders of Infancy or Early.
Chapter 8 Childhood Disorders: Tic Disorders.
Chapter 9 Childhood Disorders: Elimination Disorders and Childhood Anxiety Disorders.
Chapter 10 Stereotypic Movement Disorder and Reactive Attachment Disorder.
Chapter 11 Delirium, Dementia, and Other Cognitive Disorders.
Chapter 12 Mental Disorders Due to a General Medical Condition.
Chapter 13 General Approaches to Substance and Polydrug Use Disorders.
Chapter 14 Substance-Related Disorders: Alcohol.
Chapter 15 Substance-Related Disorders: Amphetamine.
Chapter 16 Substance-Related Disorders: Caffeine.
Chapter 17 Substance-Related Disorders: Cannabis.
Chapter 18 Substance-Related Disorders: Cocaine .
Chapter 19 Substance-Related Disorders: Hallucinogens and MDMA.
Chapter 20 Substance-Related Disorders: Inhalants.
Chapter 21 Substance-Related Disorders: Nicotine.
Chapter 22 Substance-Related Disorders: Opioids.
Chapter 23 Substance-Related Disorders: Phencyclidine.
Chapter 24 Substance-Related Disorders: Sedatives, Hypnotics, and Anxiolytics.
Chapter 25 Schizophrenia and Other Psychoses.
Chapter 26 Mood Disorders: Depressive Disorders.
Chapter 27 Mood Disorders: Premenstrual Dysphoric Disorder.
Chapter 28 Mood Disorders: Bipolar Disorder.
Chapter 29 Anxiety Disorders: Panic Disorder With and Without Agoraphobia.
Chapter 30 Anxiety Disorders: Social and Specific Phobias.
Chapter 31 Anxiety Disorders: Obsessive–Compulsive Disorder.
Chapter 32 Anxiety Disorders: Traumatic Stress Disorders.
Chapter 33 Anxiety Disorders: Generalized Anxiety Disorder.
Chapter 34 Somatoform Disorders.
Chapter 35 Factitious Disorders.
Chapter 36 Dissociative Disorders.
Chapter 37 Sexual Disorders.
Chapter 38 Eating Disorders.
Chapter 39 Sleep and Sleep–Wake Disorders.
Chapter 40 Impulse Control Disorders.
Chapter 41 Adjustment Disorders.
Chapter 42 Personality Disorders.
Index.
"In my opinion, this book would be worth borrowing from the library in order to read specific chapters of interest; perhaps, the common mental health conditions or a rarity recently encountered in clinic." (Occupational Medicine, 8 March 2011)
"The main addition to this edition is a useful introductory chapter on the psychiatric interview, with comments on "compiling the psychiatric database" (which seems to be what used to be called the patient's notes). I was also glad to see rather more mentions of evidence-supported psychological therapies in among the recommended drug treatments than in the previous edition." (Journal of Mental Health, August 2010)
Lists treatment options and recommendations alongside the DSM-IV classifications of each mental disorder
New chapter on the psychiatric interview and assessment of mental status
Concise, focused clinical management advice given by the experts, covering all treatment options
Diagnostic decision trees and treatment flowcharts and algorithms provided for clear management guidance
Short paragraph at end of each disorder comparing DSM-IV-TR and ICD-10 classifications for quick reference
Ideal for individuals looking for a sound overview of the different disorders and their treatment.