Clinical Information Technology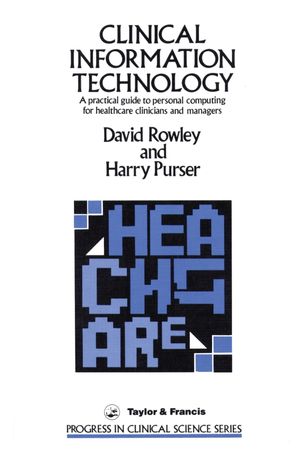 Clinical Information Technology
ISBN: 978-0-850-66639-7
Apr 2000
260 pages
Product not available for purchase
Description
The book introduces the newcomer to personal computing to the basic components and operation of the IBM-compatible PC, and discusses purchasing decision, for both hard-and software. The next section looks in detail at several major areas in healthcare where the PC is rapidly becoming an indispensable tool. Particular emphasis is give to the topic of database management systems which are used in the development of Korner Health Service Information Systems.

Clinical Information Technology provides a completely up-to-date account of the modern personal computing industry which should enable purchasing an system development decisions to be made. The book has received official support from IBM and Microsoft.
Acknowledgments.
Foreword.
Introduction: Personal Computing in Healthcare.
Part One: Practical Personal Computing.
1. The ABC of Personal Computer Systems.
2. The PC Range.
3. Software-An Introduction.
4. DOS: The Basics.
Part Two: PC Applications in Healthcare.
5. Word Processing and Desktop Publishing.
6. Database Management Systems I.
7. Database Management Systems II.
8. Clinical Research and Statistical Analysis.
9. Assessment and Remediation.
10. Health Information Systems: The Korner Reports.
Glossary.
References.
Appendices.
Index.