Clinical Measurement in Drug Evaluation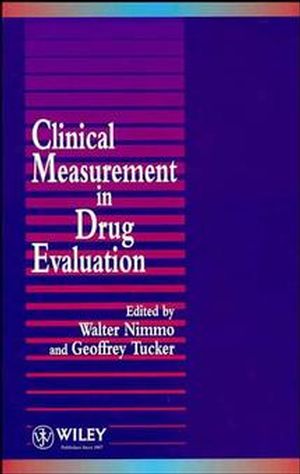 Clinical Measurement in Drug Evaluation
ISBN: 978-0-471-94391-4 August 1995 344 Pages
Description
Internationally renowned authorities from diverse fields present the principles and practice regarding the measurement of drug effects in humans and its role in the analysis and development of new chemical entities. The main thrust is on surrogate endpoints, peripheral vascular disease, the reliability of data collection and interpretation as well as the identification, predictability and performance of drug interactions and adverse effects.
Contributors.

Preface.

SURROGATE ENDPOINTS AS A MEASURE OF DRUG EFFECTS.

A Regulatory Authority's Opinion About Surrogate Endpoints (R.Temple).

What to Measure in Dementia (L. Whalley & S. Gerhand).

Twenty-foour-hour ambulatory arterial (blood) pressuremeasurement and the assessment of antihypertensive drug efficacy(J. Hasford, W. Meister).

Potential Measurements in Patients with Osteoporosis (C.Miller).

Are bronchial challenge studies indicators of antiasthmaticactivity? (A. J. Frew, S. T. Holgate)

DRUGS AFFECTING BLOOD FLOW TO THE PERIPHERAL CIRCULATION.

Measurements of Blood Rheology for the Evaluation ofPharmacological Agents (G. Nash).

Platelet Function Tests (P. Wyld).

Assessment of the Effects of Drugs on the Peripheral Vasculature(D. Webb & M. Hand).

PRECISION, VALIDITY AND REPRODUCIBILITY OF MEASUREMENT.

Bias and Confounding in Clinical Studies (D. Jones).

What Does Good Clinical Practice Have to Say About ClinicalMeasurement? (E. Hvidberg).

Measurement of bioequivalence and its relevance to tthe clinicalsituation (T. Salmonson)

The 'Clinical Trial' of the Clinical Trial (A. Feinstein).

Patient compliancewith prescribed drug regimens: overview of thepast 30 yers of research (j. Urguhart).

MEASUREMENT OF ADVERSE EVENTS.

Prediction of drug interactions: implications of recent advancesin drug metabolism (G. T. Tucker).

What number of patients is necessary to establish drug safety?(P. R. Jackson, E. J. Wallis, W. w. Yeo, L E. Ramsay)

Accuracy of adverse data from post-marketing studies and theinfluence on extension of licensed indications (D. H.Lawson).

Controlled Clinical Trials: Contribution to Drug Safety (M.Langman).

Predicting Adverse Drug Reactions (C. George).

THE EDINBURGH DRUG ABSORPTION FOUNDATION LECTURE.

Interactions in First-Pass Metabolism and Variability in DrugResponse (P. Neuvonen).

Index.