Clinical Obesity in Adults and Children, 2nd Edition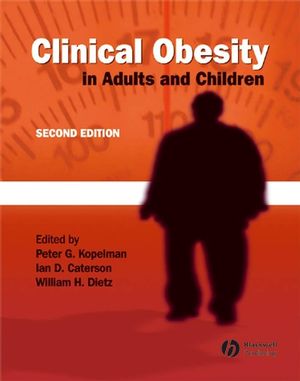 Clinical Obesity in Adults and Children, 2nd Edition
ISBN: 978-1-405-14366-0
Apr 2008, Wiley-Blackwell
504 pages
Description
Highly Commended in the 2006 British Medical Association Book Awards (Endocrinology)
This Second Edition brings together more than 20 internationally recognized experts in the field to provide a timely review of current knowledge. The text remains an invaluable resource for all healthcare professionals involved in the care of patients who are obese.

New features of this Second Edition include:
Addition of two new co-editors – Professor Bill Dietz, USA and Professor Ian Caterson, Australia

Increased number of contributors from around the globe – providing a truly international perspective

Includes new information about the causes of obesity, its complications and new (and novel) methods of prevention and treatment

Reorganized into sections that address obesity and its social and cultural aspects, biology, associated diseases, life stages (pediatric and adult), management, and environmental and policy approaches
Preface to Second Edition.
Part 1: Obesity.
1. Epidemiology - Definition and Classification of Obesity.
2. Measuring Body Composition in Adults and Children.
3. Social Consequences of Obesity.
4. Obesity and Culture.
Part 2: Biology of Obesity.
5. Energy Balance and Body Weight Homeostasis.
6. Genes and Obesity.
7. Fetal and Infant Origins of Obesity.
8. Metabolic Fuels and Obesity: Carbohydrate and Lipid Metabolism in Skeletal Muscle and Adipose Tissue.
9. Energy and Macronutrient Needs in Relation to Substrate Handling in Obesity.
10. Biology of Obesity: Eating Behaviour.
11. Energy Expenditure in Humans: The Influence of Activity, Diet and the Sympathetic Nervous System.
Part 3: Obesity and Disease.
12. Obesity and Dislipidaemia: Importance of Body Fat Distribution.
13. Obesity and Disease: Insulin Resistance, Diabetes, Metabolic Syndrome and Polycystic Ovary Syndrome.
14. Obesity and Disease: Hormones and Obesity.
Part 4: Childhood Obesity.
15. Childhood Obesity: Definition, Classification and Assessment.
16. Childhood Obesity: Consequences and Physical and Psychosocial and Complications.
Part V: Adult Obesity.
17. Adult Obesity: Metabolic Syndrome, Diabetes and Non-Alcoholic Steatohepatitis.
18. Cardiovascular Consequences of Obesity.
19. Adult Obesity: Fertility.
20. Obstructive Sleep Apnoea.
Part 6: Management.
21. An Overview of Obesity Management.
22. Dietary Management of Obesity: Eating Plans.
23. Behavioural Treatment of Obesity: Achievements and Challenges.
24. Exercise and Obesity.
25. Management of Obesity: Pharmacotherapy.
26. The Management of Obesity: Surgery.
27. Weight Loss Maintenance.
28. Education and Training Health-Care Professionals.
Part VII: Environmental and Policy Approaches.
29. Obesity in Asian Populations.
30. Environmental and Policy Approaches: Alternative Methods.
31. A Comprehensive Approach to Obesity Prevention.
Index.
"This unique and comprehensive textbook on obesity has a distinctly international flavor and should be considered mandatory reading for any medical subspecialist or primary care physician who takes care of patients who are obese." (
The New England Journal of Medicine
, 2006 (on the second edition))
"This excellent textbook not only integrates the clinical and practical aspects of obesity as a disease entity but also bridges the gap between the laboratory and the clinic. Clinical Obesity provides easily acessible, updated information together with some predictions about future developments, which will prove very interesting for both clinicians and scientists working in this exciting field." (Obesity Matters (on the first edition))

"Less than a fifth of the book is taken up by basic science, the rest is about how to investigate and manage the obese patient. It is written by active clinicians and scientists and offers solid dogmatic advice rather than being a text with every fact referenced. I have enjoyed having it on my desk and will continue to thumb through it." (Family Practice (on the first edition))
The most comprehensive clinical reference in the field


Addition of two new co-editors – Professor Bill Dietz, USA and Professor Ian Caterson, Australia


Increased number of contributors from around the globe – providing a truly international perspective


Includes new information about the causes of obesity, its complications and new (and novel) methods of prevention and treatment


Reorganized into sections that address obesity and its social and cultural aspects, biology, associated diseases, life stages (pediatric and adult), management, and environmental and policy approaches