Clinical Radiation Oncology: Indications, Techniques, and Results, 3rd Edition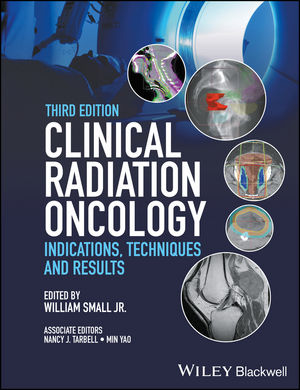 Clinical Radiation Oncology: Indications, Techniques, and Results, 3rd Edition
ISBN: 978-0-470-90552-4
Apr 2017, Wiley-Blackwell
896 pages
Description
This fully updated and enhanced third edition offers a highly practical, application-based review of the biological basis of radiation oncology and the clinical efficacy of radiation therapy.

Revised edition of the classic reference in radiation oncology from Dr. C.C. Wang, whose practical approach to clinical application was legendary
Includes the latest developments in the field: intensity modulated radiation therapy (IMRT), image guided radiation therapy, and particle beam therapy
Includes two brand new chapters Palliative Radiotherapy, and Statistics in Radiation Oncology
Features a vibrant and extremely comprehensive head and neck section
Provides immediately applicable treatment algorithms for each tumor
Dedication ix
Preface xi
Contributors xiii
Section 1 Scientific Foundations 1
Section Editor:William Small Jr.
1 Basic Concepts of Clinical Radiation Oncology 3
Hannah Yoon, Karan Shah,William Small Jr,Minesh P.Mehta and John P. Hayes
2 Radiation Biology for Radiation Oncologists 15
Timothy A. Chan, Boris Hristov and Simon N. Powell
3 Treatment Planning 62
George T.Y. Chen and Jong H. Kung
4 Image-Guided Radiation Therapy 83
Monique Youl, Kristy K. Brock and Laura A. Dawson
5 A Guide to Understanding Statistics in Radiation Oncology 99
Kathryn Winter
6 Use of Protons for Radiation Therapy 115
Mark Pankuch, Nasiruddin Mohammed, Draik Hecksel, Steve Laub, Sean Boyer and William F. Hartsell
7 Principles of Palliative Radiation Therapy 141
Randy L. Wei, Bo A. Wan, Edward Chowand Stephen Lutz
8 Patient Safety and Quality: Management for the Radiation Oncologist 158
Fiori Alite and Abhishek A. Solanki
Section 2 Cancers of the Head and Neck 175
Section Editor: Min Yao
9 Carcinoma of the Oral Cavity 177
Keith Unger, Felix Ho, James Melotek and Nancy Lee
10 Oropharyngeal Cancer 202
Charles Woods, Mitchell Machtay and Min Yao
11 Larynx and Hypopharynx 227
Changhu Chen
12 Carcinoma of the Nasopharynx 248
Keith Unger, Felix Ho, James Melotek and Nancy Lee
13 Carcinoma of the Paranasal Sinuses and Nasal Cavity 269
Farzan Siddiqui, Nicholas Galanopoulos and Min Yao
14 Salivary Gland Carcinomas 288
Allen M. Chen
15 Cervical Nodes with Unknown Primary Carcinomas 300
Min Yao, Pierre Lavertu and Mitchell Machtay
16 Temporal Bone Tumors 313
Allen M. Chen
17 Thyroid Cancer 318
Roi Dagan and Robert J. Amdur
18 Head and Neck Radiation Therapy Sequelae and Late Complications and the Role of IMRT 335
Xiaoshen Wang and Avraham Eisbruch
Section 3 Cancer of the Intrathorax 349
Section Editor: Minesh P. Mehta
19 Lung Cancer 351
Deepak Khuntia, Pranshu Mohindra and Minesh P. Mehta
20 Carcinoma of the Esophagus 385
Grace J. Kim and Mohan Suntharalingam
Section 4 Gastrointestinal Malignancies 397
Section Editor: Christopher G.Willett
21 Gastric Cancer 399
Joanna Y. Chin and Theodore S. Hong
22 Pancreatic Cancer 409
Manisha Palta, Christopher G.Willett and Brian G. Czito
23 Colon Cancer 429
Jennifer Y. Wo
24 Rectal Cancer 438
Jennifer Y. Wo
25 Anal Cancer 466
Brian G. Czito, Manisha Palta and Christopher G. Willett
Section 5 Genitourinary Malignancies 481
Section Editor: Jason A. Efstathiou
26 Bladder Cancer 483
Phillip J. Gray,William U. Shipley and Jason A. Efstathiou
27 Prostate Cancer 497
Abhishek A. Solanki, Rebecca I. Hartman, Phillip J. Gray, Brent S. Rose, Jonathan J. Paly, Kent W. Mouw and Jason A. Efstathiou
28 Carcinoma of the Upper Urinary Tract 531
Anthony L. Zietman, Jonathan J. Paly and Jason A. Efstathiou
29 Testicular Cancer 539
Jonathan J. Paly and Jason A. Efstathiou
30 Penile Cancer 549
Kent W. Mouw, Anthony L. Zietman and Jason A. Efstathiou
Section 6 Gynecological Malignancies 557
Section Editor:William Small Jr.
31 Endometrium 559
Ann Klopp and Patricia Eifel
32 Vulva 576
Kanokpis Townamchai, Caitlin Newhouse and Akila N. Viswanathan
33 Ovary 597
Charles A. Kunos
34 Vagina 618
Charles A. Kunos
35 Cervix 631
Charles A. Kunos
Section 7 Miscellaneous Sites 673
Section Editor:William Small, Jr
36 Cancer of the Skin 675
Justin Lee, Elizabeth Barnes, May Tsao and Phillip Devlin
37 Cancer of the Breast 694
Jonathan B. Strauss, Monica Morrow and William Small Jr
38 Soft-Tissue Sarcomas 739
Jonathan B. Ashman and Kaled M. Alektiar
39 Tumors of the Central Nervous System 757
Phillip J. Gray, Jay S. Loeffler and Helen A. Shih
40 The Lymphomas 775
Caitlin Costello, Loren K. Mell and Parag Sanghvi
41 Pediatric Tumors 805
Shannon M. MacDonald, Torunn I. Yock, Nancy J. Tarbell and Tamara Z. Vern-Gross
Index 845
"This well-written book strikes a nice balance in providing reasonably comprehensive yet concise coverage of clinically pertinent topics in radiation oncology. While it does provide a nice balance, some potential readers, particularly students, may be drawn to more introductory summary guide books. Conversely, those interested in an in-depth understanding of a given topic may find the need to explore in greater depth beyond that provided in this book, not an unexpected characteristic for the majority of textbooks. The editors have been very successful in addressing the numerous advances in the field since the publication of the previous edition in 2000. This is a valuable addition to the latest literature in radiation oncology" Mark D. Hurwitz, MD, Thomas Jefferson University on behalf of Doody's