Clinical Risk Management: Enhancing Patient Safety, 2nd Edition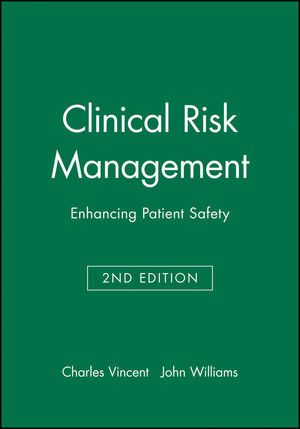 Clinical Risk Management: Enhancing Patient Safety, 2nd Edition
ISBN: 978-0-727-91392-0 February 2001 BMJ Books 588 Pages
Description
The aim of this book is to reduce the risks of medical treatment and enhance the safety of patients in all areas of healthcare. The first section discusses human error, the incidence of harm to patients, and the development or risk management. Chapters in the second section discuss the reduction of risk in clinical practice in key medical specialties. The third section discusses features of the healthcare systems that are essential to safe practice, such as communication of risk to patients, the design of equipment, supervision and training, and effective teamwork. The fourth section describes how to put risk management into practice, including the effective and sensitive handling of complaints and claims, the care of injured patients and the staff involved, and the reporting, investigation and analysis of serious incidents.
Table of contents
Understanding adverse events.
Errors and adverse events in medicine.
The development of risk management.
Clinical governance.
Reducing risks in obstetrics.
Reducing risks in paediatrics.
Risk management in anaesthesia.
Risk management in surgery.
Risk management in A&E medicine.
Reducing risks in hospital general medicine.
Risk management in clinical oncology.
Risk management in psychiatry.
Risk management in general practice.
Communicating risk.
Guidelines and pathways.
The role of human factors engineering.
Working time, stress and fatigue.
Training and supervision.
Teams, culture and managing risk.
Creating and maintaining safe systems.
Impementation of risk management.
Clinical incident reporting.
Investigation and analysis of adverse events.
Caring for patients harmed by treatment.
Supporting staff.
Dealing with complaints.
Resolving disputes.
Claims management
Reviews
"Recommended for all in health care because safety has always been an issue." (Eye News, 2011)
"Therefore I believe that this book should be read by anyone involved in, or responsible for healthcare . . . This makes a compelling case to benefit from the safety and quality improvement approaches described in the book." (The Bulletin of the Royal College of Pathologists, 1 July 2011)
What's New
The principal UK text on reduction of risk in clinical practice
Essential reading for all those concerned with clinical governance, risk management and patient safety
New chapters on incidence of errors and adverse outcomes and clinical governance
New section on the conditions of safe practice, examining communication of risk, fatigue and workload, teamwork and organisation of healthcare and other key themes
International authorship including leding experts from USA and UK