Clinical Sedation in Dentistry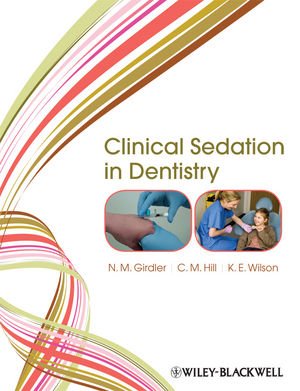 Clinical Sedation in Dentistry
ISBN: 978-1-444-31220-1
May 2009, Wiley-Blackwell
182 pages
Description
Clinical Sedation in Dentistry is a comprehensive textbook on the principles and practice of clinical sedation in dentistry, written by experienced educators and internationally renowned researchers in the field.


Chapters cover the following key topics: the aetiology of dental anxiety, patient management techniques, anatomy and physiology, pharmacology, patient assessment and selection, inhalation and intravenous sedation, pre-medication and oral sedation, sedation and special care dentistry, complications and emergencies, medico-legal aspects and recent advances.


This textbook is aimed primarily at undergraduate dental students, dental care professionals and postgraduate dentists.
Foreword.
Preface.
1. Aetiology of Dental Anxiety.
2. Scope of Patient Management Techniques



Behaviour management

Acclimatisation

Hypnosis

Acupuncture

Sedation

General anaesthesia
.
3. Relevant Anatomy and Physiology



Central Nervous System ( drug action)

Cardiovascular System

Respiratory System
.
4. Pharmacology of Sedation Drugs



Nitrous oxide

Benzodiazepines




Diazepam

Midazolam

Temazepam

Flumazenil



Other intravenous and inhalational agents


Propofol


Sevoflurane
.
.
5. Patient Assessment and Selection



Dental History

Medical history

Social history

Treatment planning

Pre and post operative instructions
.
6. Inhalation Sedation



Equipment

Indications and Contraindications

Technique

Monitoring
.
7. Intravenous sedation



Equipment

Indications and Contraindications

Technique

Monitoring
.
8. Pre-medication and Oral Sedation



Pre-medication




Principles of pre-medication

Indications and contraindication

Drugs used for pre-medication



Oral sedation




Principles of oral sedation

Indications and contraindications

Oral sedative agents
.
9. Sedation and Special Care Dentistry



Defining Special Care Dentistry

Patient groups

Principles of sedation for special care patients
.
10. Sedation Complications and Emergencies



Complications of sedation

Sedation related emergencies

Medical emergencies
.
11. Medico-Legal Aspects of Sedation



Sedation guidelines

Consent

Clinical governance
.
12. Advances in Conscious Sedation



IV sedation in children

Propofol sedation

Inhalation sedation techniques
.
Appendices & Index
"All the chapters conclude with a short section of references and further reading and there is a six-page index at the end of the book. Throughout the book there are colour photographs, diagrams, tables, graphs, flow charts, specimen letters, leaflets and checklists." (BDA News, July 2010)