Clinical Supervision and Teacher Development, 6th Edition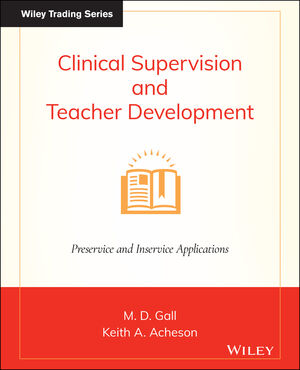 Clinical Supervision and Teacher Development, 6th Edition
ISBN: 978-0-470-38624-8 October 2010 264 Pages
Description
Known as the most practical text in the field,
Clinical Supervision and Teacher Development
, 6
th
edition provides clear, hands-on guidance for supervising teachers and encouraging their professional growth. Updated throughout to reflect the latest in research and theory, the text presents a widely accepted and flexible model of clinical supervision as well as numerous research-based and field-tested strategies. The concepts and techniques covered will help supervising teachers improve in the classroom.
Table of contents
Unit One: An Overview of Clinical Supervision.
Chapter 1 The Nature of Clinical Supervision.
Unit Two: The Uses Of Clinical Supervision.
Chapter 2 Using Clinical Supervision to Promote Teacher Development.
Chapter 3 Using Clinical Supervision to Support Other Methods of Professional Development.
Chapter 4 Using Clinical Supervision to Promote Effective Teaching.
Chapter 5 Using Clinical Supervision in Teacher Evaluation.
Chapter 6 Problems of Practice in Clinical Supervision.
Unit Three: Techniques for the Conferencing Phases of Clinical Supervision.
Chapter 7 Interpersonal Communication in Clinical Supervision.
Chapter 8 The Planning Conference.
Chapter 9 The Feedback Conference.
Unit Four: Classroom Observation Techniques.
Chapter 10 Selective Verbatim Transcription.
Chapter 11 Seating Chart Observation Records.
Chapter 12 Wide-Lens Techniques.
Chapter 13 Checklists, Rating Scales, and Timeline Coding.
Appendix.
Effective Teaching Practices and Methods for Observing Them.
Name Index.
Subject Index.
New To This Edition
Each chapter is updated to include new initiatives and methods that are relevant to clinical supervision: the
No Child Left Behind
(NCLB)
Act
; the accountability movement in education; policy initiatives to judge teachers' effectiveness based on their students' gains on standardised achievement tests; data-based teaching; tutoring as a teaching method for struggling students; school-level factors that affect teaching, learning, and supervision; the widget effect in teacher evaluation; nonverbal communication; intercultural communication; and communication accommodation theory.
Chapter 4 is new to this edition.  It relates clinical supervision to other methods of professional development: action research, classroom walk-throughs, cognitive coaching, instructional rounds, lesson study, microteaching, peer coaching, peer consultation, and professional learning communities.  These methods gradually have come into professional use independently of each other and independently of clinical supervision.  The authors analyze similarities and differences between these methods and explain how various techniques of clinical supervision can be incorporated into these methods to strengthen them.
Chapter 6 is also new to this edition.  It examines problems of practice in clinical supervision.  The authors wanted to highlight the fact that clinical supervision is generally beneficial, but it can break down or be problematic in certain situations. The authors focus on five problems of practice: teachers who have conflicting priorities; teachers who have difficulty translating insights into action; teachers who avoid contact with their supervisor; incompatibilities between student teachers and cooperating teachers; and experienced teachers who get in a rut.
Several new observation techniques have been added to Unit Four: NCLB report cards; Surveys of Enacted Curriculum and other methods of determining a teacher's curriculum alignment; the Patterns of Adaptive Learning Scales to determine students' cognitive and emotional engagement in classroom activities; and teacher evaluation scales.
Throughout the text, the authors describe recent research studies whose findings are advancing educators' understanding of factors that enhance the effectiveness of clinical supervision and classroom instruction.
What's New
Provides school administrators with up-to-date, accessible information on teacher supervision, goal setting, and evaluation.