Closing the Gender Gap: Postwar Education and Social Change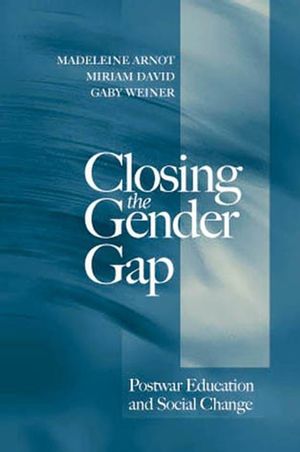 Closing the Gender Gap: Postwar Education and Social Change
ISBN: 978-0-745-61883-8 November 1999 Polity 208 Pages
Description
Undergraduate and postgraduate students in education, sociology and gender studies, as well as the general reader with an interest in education or gender.
Table of contents
Preface.
Abbreviations and Acronyms.
Part I: Refashioning Gender Relations.
1. Revisiting Gender in the 1990s.
2. Changing Gender Patterns in Education.
3. Challenging Victorian Values.
Part II: Social Policy and Education Reform.
4. Motherhood and Women's Work in the Welfare State.
5. Schooling, Teachers and Feminism.
6. Markets, Competition and Performance.
Part III: New Generations of Girls and Boys.
7. Schoolgirls and Social Change.
8. Schoolboys and Social Change.
9. Closing the Gender Gap in Education?.
Authors' Note on Further Reading.
References and Bibliography.
Index.
Reviews
"This book is an excellent read and I have no doubt that it will become a standard text in the sociology of education. It represents the first attempt at explaining the closing gender gap (if not the emergence of a new one!) in terms of the wider social, political, cultural and economic changes in the 1980s and 1990s."
Phillip Brown, School of Social and Administrative Studies, University of Wales, Cardiff
"There are 3 main reasons why this book is worth reading many times and from different perspectives. The first is that it brings together the long-term scholarship of three of England's leading feminist scholars in education. The second is that it is an important knowledge-based intervention in an educational debate which has claimed a high profile in media and education policy circles over the 1990s and into the 2000s. The third reason is that the book's lines of argument are conceptually and empircally rich and its conclusions provocative." British Educational Research Journal
Features
* A comprehensive and up-to-date account of the developments in British education from 1945 to the present day.
* Focuses on how and why the gender gap is closing in the British education system.
* Offers a new treatment of gender issues in education, that seeks to describe and explain change rather than (as has been the case in the past) campaign for change or report on policy.