Co-Teaching That Works: Structures and Strategies for Maximizing Student Learning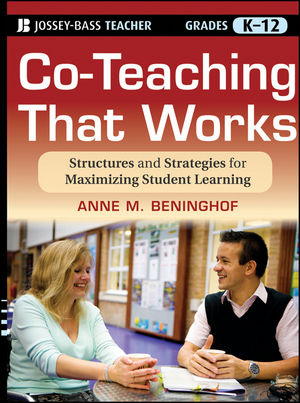 Co-Teaching That Works: Structures and Strategies for Maximizing Student Learning
ISBN: 978-1-118-00436-4 January 2012 Jossey-Bass 272 Pages
Description
Guaranteed success for the co-taught classroom
For the increasing number of teachers working in co-taught classrooms, this book provides practical ideas for defining teacher roles, planning lessons, providing effective instruction, and maximizing the value of each team member. Former co-teacher and national presenter Anne Beninghof shares stories, and real-life co-taught lesson examples that emphasize creative yet time-efficient instructional strategies that lend themselves beautifully to the co-taught classroom. Teachers and instructional leaders at all levels and in a wide variety of content areas will find this book replete with valuable co-teaching guidance so that success is guaranteed.
Offers tips for effective teaching strategies for every type of team teaching situation imaginable
Includes guidelines for successful team-teaching with specialists in technology; literacy; occupational/physical therapy; special education; speech-language therapy; ELL; gifted
The author is an internationally recognized consultant and trainer
This user-friendly, comprehensive book is filled with concrete ideas teachers can implement immediately in the classroom to boost student learning and engagement.
Table of contents
The Author vii
Introduction 1
PART ONE: PUTTING TOGETHER THE PIECES 5
Chapter 1 An Overview of Co-Teaching 7
What Is Co-Teaching? 7
What Does the Research Say? 9
What Are the Benefi ts? 10
Chapter 2 Relationship Building: Common Challenges and Effective Solutions 15
Climate 15
Communication 20
Roles and Responsibilities 28
Chapter 3 Implementation: Common Challenges and Effective Solutions 35
Classroom Composition 35
Planning Time 36
Grading 40
Evaluation 42
PART TWO: LOOKING THROUGH THE CO-TEACHING KALEIDOSCOPE 51
Chapter 4 The Duet Model 55
Chapter 5 Lead and Support Model 63
Chapter 6 Speak and Add Model 71
Chapter 7 Skill Groups Model 79
Chapter 8 Station Model 87
Chapter 9 Learning Style Model 95
Chapter 10 Parallel Teaching Model 105
Chapter 11 Adapting Model 113
Chapter 12 Complementary Skills Model 123
PART THREE: CREATING A UNIQUE DESIGN FOR WORKING TOGETHER 131
Chapter 13 Co-Teaching with a Technology Specialist 133
Chapter 14 Co-Teaching with a Special Education Teacher 141
Chapter 15 Co-Teaching with a Speech/Language Pathologist 151
Chapter 16 Co-Teaching with an Occupational or Physical Therapist 159
Chapter 17 Co-Teaching with a Paraeducator 165
Chapter 18 Co-Teaching with a Gifted Specialist 173
Chapter 19 Co-Teaching with a Literacy Specialist 181
Chapter 20 Co-Teaching with an ELL Specialist 187
PART FOUR: WRAPPING IT UP 195
Chapter 21 Conclusion: Evolving Partnerships 197
Appendix Instructional Strategies for Co-Taught Classrooms 199
References 245
Index 251