Co-Teaching in the Differentiated Classroom: Successful Collaboration, Lesson Design, and Classroom Management, Grades 5-12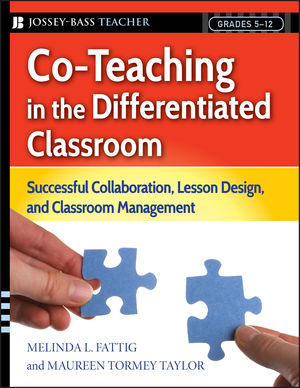 Co-Teaching in the Differentiated Classroom: Successful Collaboration, Lesson Design, and Classroom Management, Grades 5-12
ISBN: 978-0-787-98744-2 December 2007 Jossey-Bass 160 Pages
Description
Co-Teaching in the Differentiated Classroom is a practical hands-on guide that explains how to implement co-teaching programs in mixed-ability classrooms. Based on the authors' award-winning model, this important guide shows how special education teachers can pair with general education teachers to improve classroom functioning while promoting high achievement for all students. The book provides tested frameworks and tools for teacher collaboration on lesson planning, student grouping, assessment, and discipline. It also offers guidance on managing overcrowded classrooms and on designing and implementing differentiated lessons and assignments, and includes advice for administrators.
Buy Set of 1 Items
This item: Co-Teaching in the Differentiated Classroom: Successful Collaboration, Lesson Design, and Classroom Management, Grades 5-12
Purchased Together:$103.43
Cannot be combined with any other offers.
Original Price:$79.90
Purchased together:$59.93
save $19.97
Cannot be combined with any other offers.
Original Price:$62.90
Purchased together:$47.18
save $15.72
Table of contents
Part I: Collaboration and Co-Teaching

1. Why Collaborate?

2. The Partnership Essentials

Part II: Working in the Differentiated Classroom

3. The Differentiation Essentials

4. Planning Differentiated Lessons: Essential Steps

5. Sample Lessons, Activities, and Templates

6. Student Contracts and Menus

7. Assessment as a Grading Tool

Part III: Implementing a Schoolwide Program

8. Essential Administrative Support

9. Reflections on Making Change Happen
Features
Based on award-winning collaboration model (California Special Education Dept)

Helps schools respond to educational mandates for both inclusion and standards-based learning.

Helps teachers manage overcrowded classrooms with mixed-ability students.

Provides guidance on differentiating lessons, including lesson-planning templates.

Includes tips and tools for scheduling, assessment, discipline, and ability grouping.

Flexible and adaptable to diverse school/classrooms situations and needs.