Coaching Basketball For Dummies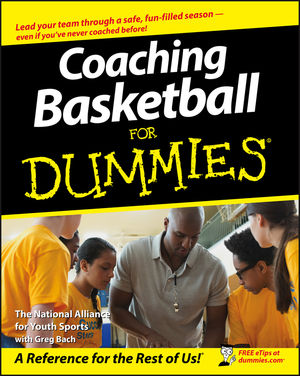 Coaching Basketball For Dummies
ISBN: 978-1-118-05171-9 February 2011 384 Pages
Description
So you're thinking about volunteering to coach youth basketball? Great! You're in for a fun, rewarding experience. Whether you're new to the sport and looking for some guidance or you're a seasoned coach hunting for some fresh tips, Coaching Basketball For Dummies will help you command the court with confidence.

Each friendly chapter is packed with expert advice on teaching the basics of basketball—from dribbling and shooting to rebounding and defending—and guiding your kids to a fun-filled, stress-free season. You get a crash course in the rules and regulations of the game, as well as clear explanations of what all those lines, circles, and half-circle markings mean on the court. You'll assign team positions, run great practices, and work with both beginning and intermediate players of different age groups. You'll also see how to ramp up your players' skills and lead your team effectively during a game. This book will also help you discover how to:
Develop your coaching philosophy
Understand your league's rules
Conduct a preseason parents' meeting—crucial for opening the lines of communication
Teach offensive and defensive strategies
Keep your kids healthy and injury-free
Encourage good sportsmanship
Make critical half-time adjustments during a game
Help struggling players
Address discipline problems and handle difficult parents
Coach an All-Star or Travel team
Complete with numerous offensive and defensive drills and tips for helping your kids relax before a game, Coaching Basketball For Dummies is the fun and easy way to get the score on this worthwhile endeavor!
Introduction.
Part I: Getting Started Coaching Youth Basketball.
Chapter 1: Teaching Basketball to Children.
Chapter 2: Preparing for a Successful Season.
Chapter 3: Covering the Basketball Basics.
Chapter 4: Getting to Know the Parents.
Part II: Building Your Basketball Coaching Skills.
Chapter 5: Evaluating Your Team.
Chapter 6: Running a Great Practice.
Chapter 7: Game Day.
Chapter 8: Refining Your Coaching Strategies.
Part III: Working with Beginning and Intermediate Players.
Chapter 9: Teaching the Offensive Fundamentals.
Chapter 10: Teaching the Defensive Fundamentals.
Chapter 11: Fundamental Drills for Beginners.
Chapter 12: Coaching Offense 101.
Chapter 13: Coaching Defense 101.
Chapter 14: Taking Your Drills to the Next Level.
Part IV: Moving On to Advanced Basketball Strategies.
Chapter 15: Coaching Offense 201.
Chapter 16: Coaching Defense 201.
Chapter 17: Zoning In on Advanced Drills.
Part V: Shooting for the Extra Points.
Chapter 18: Keeping Your Kids Healthyand Injury Free.
Chapter 19: Challenges Every Coach Faces.
Chapter 20: Coaching a Travel Team.
Part VI: The Part of Tens.
Chapter 21; Ten (Or So) Things to Say to Your Team before the Game.
Chapter 22: Ten Ways to Stay Realistic When Coaching Children.
Index.