Coaching Football For Dummies, Mini Edition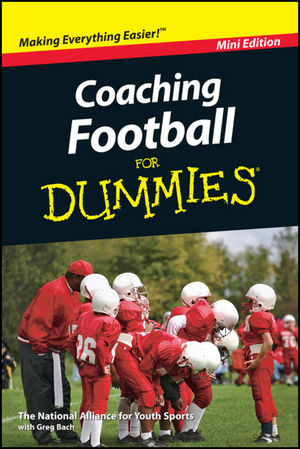 Coaching Football For Dummies, Mini Edition
ISBN: 978-1-118-04277-9
Dec 2010
64 pages
Description
Touchdown! This fun and easy reference will help you makeit happen.
Signed up to coach the football team and not sure where to start? This fun reference guides you through the beginning of the season to the end of the season, with helpful tips along the way. You also gain useful advice on evaluating your players' abilities and involving their parents in training and team activities.
Open the book and find:
Ideas for drills

Tips for choosing the best offensive plays

Pointers on creating a strong defense

Ways to prepare for the season
Introduction.
Icons Used in This Book.
Where to Go from Here.
Chapter 1: Teaching Football to Children.
Gearing Up.
Getting parents on your side.
Figuring out the rules and lingo.
Taking the Field.
Practice planning.
Game day.
Coaching Your Own Child.
Kicking around the coaching decision with your kid.
Acting as both parent and coach.
Chapter 2: Meeting the Parents and Evaluating Your Team.
Holding a Productive Preseason Meeting.
Explaining Your Coaching Philosophy.
Assembling Your Parent Posse.
Assistant coaches.
Supporting roles.
Evaluating Your Players' Skills.
Assigning Team Positions.
Chapter 3: Drills for Beginners.
Offensive Exercises for the Quarterback.
Offensive Exercises for the Running Back.
Offensive Exercises for Wide Receivers and Tight Ends.
Exercises for Offensive Linemen.
Exercises for Defensive Linemen.
Defensive Exercises for Linebackers.
Exercises for Defensive Backs.
Special Teams Drills.
Chapter 4: Coaching Football Offense 101.
Picking Up Yards.
Communicating Running Plays.
Putting the Ball in the Air.
Red Zone Offense.
Chapter 5: Coaching Football Defense 101.
Getting Defensive.
Basic defensive styles.
Passing plays: Man-to-man defense.
Things to remember for any defense.
Playing Strong Red Zone Defense.