Coaching Into Greatness: 4 Steps to Success in Business and Life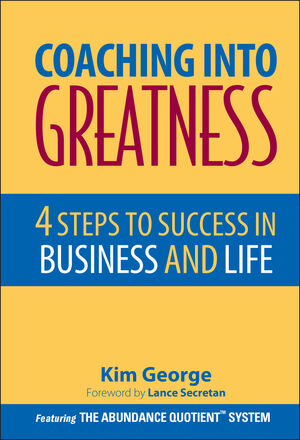 Coaching Into Greatness: 4 Steps to Success in Business and Life
ISBN: 978-0-470-89375-3
Jun 2010
288 pages
Description
Internationally acclaimed business coach and consultant Kim George provides an easy-to-master process for coaches to bring out innate greatness and achieve peak performance. George introduces a new kind of intelligence quotient, Abundance Intelligence. AQ is the key to living into greatness, moving from a mentality of scarcity to one of abundance. Using her proven four-step process, you will learn to move your clients past their illusions to embrace the abundance aptitudes of self-worth, empathy, self-expression, surrender, actualization, significance, and inquiry. Personal examples, client case studies, and profiles of highly successful individuals demonstrate how the process works and how it helps individuals live into greatness.
Foreword.
Acknowledgments.
Introduction.
1. A New Way of Being.
2. Why Greatness?
3. Forgetting Who You Are.
4. Remembering Who You Are.
5. The Illusion of Not Enough.
6. The Illusion of Comparisons.
7. The Illusion of Struggle.
8. The Illusion of Control.
9. The Illusion of Time.
10. The Illusion of Hope.
11. The Illusion of Certainty.
12. Creating Abundance Intelligence.
Appendix: The AQ System at a Glance.
Recommended Reading.
Glossary.
About the Author.
Interested in Learning More about Abundance Intelligence.
Index.