Coaching Kids For Dummies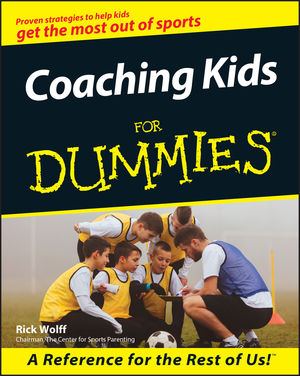 Coaching Kids For Dummies
ISBN: 978-0-764-55197-0 April 2000 252 Pages
Download Product Flyer
Download Product Flyer
Download Product Flyer is to download PDF in new tab. This is a dummy description. Download Product Flyer is to download PDF in new tab. This is a dummy description. Download Product Flyer is to download PDF in new tab. This is a dummy description. Download Product Flyer is to download PDF in new tab. This is a dummy description.
Description
What could be easier or more fun than coaching youth sports? How complicated could it be—it's all fun and games, right? Unfortunately, coaching kids isn't that simple. If you've ever watched a youth league game, you know that all sorts of pressures, worries, concerns, and emotions come into play when your kid is out on the field. In fact, it's not unusual to witness at least one ugly incident at a game where a coach or parent has gotten out of control. The good news is, as a coach, you can guarantee that kids have fun, get the physical and psychological boost they need, and want to play on your team next year. And now this book shows you how.
Written by a nationally recognized sports-parenting expert, coach, and author who is also a former professional baseball player, Coaching Kids For Dummies shows you step by step how to make sports a positive experience for kids of all ages. Packed with practical advice for coaches and parents, it shows you how to:
Help kids select the best sports for them
Communicate effectively with your young athletes
Deal with losses and wins
Provide encouragement without pushing too hard
Motivate kids and boost performance
Foster good sportsmanship
Prevent sports burnout
Handle irate parents
Evaluate travel teams
No matter what your prior experience with youth league sports—even if you weren't in one yourself as a kid—Coaching Kids For Dummies coaches you in all the essentials. Topics you'll explore include:
What every parent should know about youth sports, including the right age to get them started, how leagues work, and what your kid and you can expect
Basic coaching tasks and responsibilities, such as pregame preparation, practice sessions, team meetings with kids and parents, and more
Communication and motivational skills every coach needs to develop
Coaching challenges, including scheduling, hostile parents, dealing with injuries, and coaching your own kids
Loaded with tested-in-the-trenches strategies for helping kids get the most out of sports, Coaching Kids For Dummies is every youth league coach's survival guide.
Table of contents
Introduction.

PART I: A Parent's Primer.

Chapter 1: An Introduction to Sports Parenting.

Chapter 2: Determining the Right Age to Begin Sports.

Chapter 3: Dealing with Your Child's (And Your Own) Disappointments.

Chapter 4: Evaluating the Pros and Cons of Travel Teams.

Chapter 5: Understanding the Differences between Individual and Team Sports.

PART II: Coaching Tasks.

Chapter 6: Outlining Your Responsibilities As a Youth Coach.

Chapter 7: Setting Up for the Season.

Chapter 8: Preparing and Conducting Practices.

Chapter 9: Coaching during a Game or Meet.

PART III: Motivation and the Mental Game.

Chapter 10: Motivating Today's Young Athletes.

Chapter 11: Teaching the Basics of Good Sportsmanship.

PART IV: Coaching Challenges.

Chapter 12: Handling Tough Situations with Your Team.

Chapter 13: Coping with Kids' Sports Injuries.

Chapter 14: Coaching Your Own Child.

Chapter 15: Dealing with the Stresses of the Job.

PART V: The Part of Tens.

Chapter 16: Ten Things Every Parent Should Know.

Chapter 17: Ten Great Coaching Tips.

Chapter 18: Ten (Actually, 20) Brief Tips for Becoming a Great Coach.

Appendix A: Youth Sports Organizations.

Appendix B: The Coach's Resource Kit.

Index.

Book Registration Information.