Coaching Lacrosse For Dummies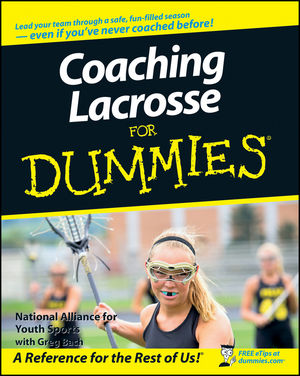 Coaching Lacrosse For Dummies
ISBN: 978-1-118-05222-8
Feb 2011
384 pages
Description
Thinking about volunteering as a lacrosse coach? Even if you've never done it before, you can lead your team to a safe and exciting season. Coaching Lacrosse For Dummies shows you the fun and easy way to get the score on coaching youth lacrosse with loads of tips and plenty of offensive and defensive drills.

This friendly guide helps you grasp the basics and take charge on the field. You'll get lots of expert advice on teaching essential skills to different age groups, determining positions for each player, promoting teamwork, keeping kids healthy and injury-free, helping struggling players improve their skills and encouraging your best players to make the most of their talents, and leading your team effectively during a game. Discover how to:
Recognize your behind-the-scenes responsibilities
Get a handle on rules and terms
Plan and execute practices
Teach basic lacrosse skills
Identify players' strengths and weaknesses
Juggle the dual roles of coach and parent
Develop a lacrosse coaching philosophy
Motivate all of your players
Make practice and skill-building fun
Understand the league your coaching
Make sure your team has all the right equipment
Take different approaches to coaching girls and boys
Assign players to positions
Motivate players on game day
It's a tough job, but somebody has to do it. Make yourself the perfect somebody with a little help from Coaching Lacrosse For Dummies.
Introduction.
Part I: Gearing Up to Coach Lacrosse.
Chapter 1: Teaching Lacrosse to Children.
Chapter 2: Setting the Stage for a Successful Season.
Chapter 3: Covering Basic Lacrosse Rules.
Chapter 4: Parental Guidance: Meeting Your Players' Parents.
Part II: Fielding a Lacrosse Team.
Chapter 5: Managing Your Team.
Chapter 6: Conducting Fun-Filled Practices.
Chapter 7: Getting with the Drills.
Chapter 8: Making Game Day Memorable — For the Right Reasons.
Part III: Basic Training: Teaching Lacrosse Skills.
Chapter 9: Scoring with Offensive Fundamentals.
Chapter 10: Setting Defensive Fundamentals.
Chapter 11: Playing Lacrosse Offense.
Chapter 12: Playing Lacrosse Defense.
Part IV: Net Gains: Advanced Lacrosse Coaching.
Chapter 13: Refining Your Coaching Strategies.
Chapter 14: Taking Your Drills to the Next Level.
Chapter 15: Stepping Up the Offense.
Chapter 16: Tightening the Defense.
Part V: The Extra Points.
Chapter 17: Staying Healthy and Injury Free.
Chapter 18: Challenges Every Lacrosse Coach Will Face.
Chapter 19: Coaching a Lacrosse Travel Team.
Part VI: The Part of Tens.
Chapter 20: Ten Qualities All Good Lacrosse Players Possess.
Chapter 21: Ten Ways to Prepare Players for a Lacrosse Game.
Chapter 22: Twelve Tips to Help Goaltenders Excel in the Nets.
Index.