Coaching Soccer For Dummies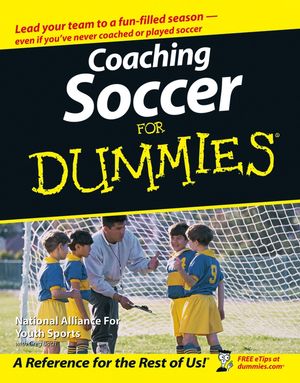 Coaching Soccer For Dummies
ISBN: 978-1-118-05281-5
Mar 2011
384 pages
Description
Packed with drills and tips for practice and game days
The fun and easy way(r) to kick-start your soccer coaching skills
Volunteering as a youth soccer coach can be a great experience, both for you and your squad. But what if you've never coached before? Don't worry! This friendly guide explains soccer rules, shows you how to approach coaching, and gives you practical pointers on improving your team's soccer skills and encouraging good sportsmanship.
Discover how to
Understand soccer rules
Develop a coaching philosophy
Teach soccer fundamentals
Run great practices
Lead your team during a game
Communicate effectively with parents
Introduction.
Part I: Getting Started Coaching Soccer.
Chapter 1: Teaching Soccer to Children.
Chapter 2: Getting Organized.
Chapter 3: Getting Up to Speed with the Basics.
Part II: Building Your Coaching Skills.
Chapter 4: Meet the Parents.
Chapter 5: Getting to Know Your Team.
Chapter 6: Running a Great Practice.
Chapter 7: Getting Your Game On.
Chapter 8: Refining Your Approach at Midseason.
Part III: Beginning and Intermediate Soccer.
Chapter 9: Teaching the Fundamentals.
Chapter 10: Fundamental Drills.
Chapter 11: Coaching Offense 101.
Chapter 12: Coaching Defense 101.
Chapter 13: Coaching Restarts.
Chapter 14: Taking Practice Drills to the Next Level.
Part IV: Advanced Soccer Strategies.
Chapter 15: Coaching Offense 201.
Chapter 16: Coaching Defense 201.
Chapter 17: Implementing Advanced Drills.
Part V: The Extra Points.
Chapter 18: Keeping Kids Healthy and Injury Free.
Chapter 19: Dealing with Common Coaching Challenges.
Chapter 20: Taking Your Show on the Road.
Part VI: The Part of Tens.
Chapter 21: Ten Ways to Make the Season Memorable.
Chapter 22: Ten Ways to End the Season on a High Note.
Index.