Coaching for Commitment: Coaching Skills Inventory (CSI) Observer, 3rd Edition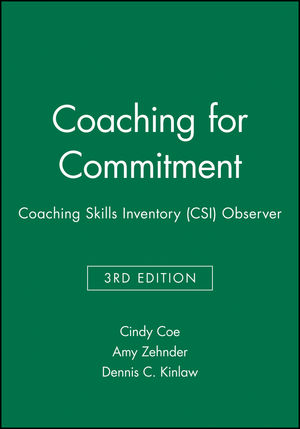 Coaching for Commitment: Coaching Skills Inventory (CSI) Observer, 3rd Edition
ISBN: 978-0-787-98252-2
Dec 2007
6 pages
Description
The revised and updated Coaching Skills Inventory, Third Edition can be used in a number of ways; as a stand alone tool, as part of the Coaching for Commitment Workshop, or as a part of another coaching or leadership course.

The CSI: Observer is a 50-item questionnaire that users self-score with the intent of providing 360-degree feedback (observations) to coaches and would-be coaches on their behaviors, skills and the roles they play when interacting with others (manager, mentor, instructor or coach).  The CSI: Observer takes approximately 15 minutes to complete and can be completed using anonymous methods to gain the maximum impact and clarity in feedback. 

The CSI: Observer is a companion to the CSI: Self and is intended for use by anyone who wants to know the perceptions of others in the areas of identifying (1) a coaching gap compared to an ideal, (2) the role(s) he or she gravitates toward, and (3) proficiency levels in using certain coaching skills during interactions with others. 

Purchased Together:$50.00