Coaching for Commitment: Coaching Skills Inventory (CSI) Self, 3rd Edition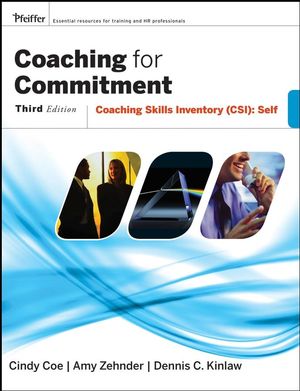 Coaching for Commitment: Coaching Skills Inventory (CSI) Self, 3rd Edition
ISBN: 978-0-787-98253-9 December 2007 Pfeiffer 32 Pages
Description
The revised and updated Coaching Skills Inventory (CSI), Third Edition can be used in a number of ways; as a stand alone tool, as part of the Coaching for Commitment Workshop, or as a part of another coaching or leadership course.

The CSI: Self is intended for use by anyone who wants to identify (1) a coaching gap compared to an ideal, (2) the role(s) he or she gravitates toward, and (3) proficiency levels in using certain coaching skills during interactions with others.  The CSI has a 360-degree feedback component, called the CSI: Observer that is used to gain a holistic view of the behaviors and actions a person exhibits.   The CSI: Observer also makes a great follow-up assessment for progress checks.

The CSI: Self is a 50-item questionnaire that users self-score. The CSI takes approximately 20-30 minutes to complete and the associated CSI: Observer version takes about 15 minutes. Once completed, the inventory will reveal which of four roles—-instructor, mentor, manager and coach—-the participant is most likely to adopt when interacting with others. It will also show how frequently the skills of challenging, listening, asking, encouraging, and refining—-foundational skills for successful coaching—are deployed in a coaching conversation.