Coaching for Commitment Workshop: Facilitator's Guide with CD-ROM and DVD Collection, 3rd Edition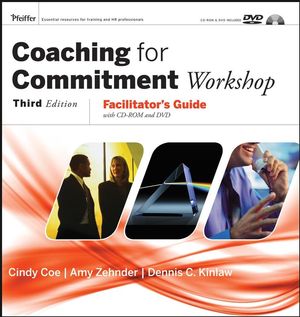 Coaching for Commitment Workshop: Facilitator's Guide with CD-ROM and DVD Collection, 3rd Edition
ISBN: 978-0-787-98250-8
Dec 2007, Pfeiffer
256 pages
Product not available for purchase
Description
With this easy-to-use Facilitator's Guide and comprehensive Participant Workbook, all the bases have been covered in this participant-centered, dynamic two-day workshop. The program can easily be extended by half a day or more if additional practice time and concentration in certain areas are desired. The accompanying DVD and CD contain coaching demos, a PowerPoint presentation, and copies of forms, worksheets, and handouts. Workshop companion materials include the Coaching Skills Inventory (CSI) (both Self and Observer versions) and a Coaching for Commitment Discussion Guide that provides participants an easy way to share their learning with others.

Coe and Zehnder have strengthened and streamlined this new and improved third edition of the Coaching for Commitment Workshop. It now provides an interactive and engaging learning experience that is the most effective way to make the shift to the coach role. In this workshop, participants will:
Become involved by understanding the various roles they play when interacting with others.
Discover ways to be more effective in the coach role and how to gain commitment from the person being coached (PBC).
Commit to creating a Coaching for Commitment culture.
Whether you are looking to re-energize seasoned coaches or begin teaching coaching for the first time, this workshop can help you achieve your coaching goals!
PRE-PLANNING AND PREPARATION.
Workshop Agenda.
Using This Guide.
Workshop Audience and Rollout.
Room Requirements, Materials, and Supplies.
Planning and Setup Tips.
Effective Facilitation Tips.
Participant Pre-Work.
MODULE 1: COACHING FOR COMMITMENT.
Welcome.
My Coaching Definition.
Coaching for Commitment Culture.
Great Expectations.
Coaching for Commitment.
Overall Goal.
MODULE 2: THE COACH ROLE.
Module 2 Objectives.
Coaching Skills Inventory.
Shift Happens.
Coach Role.
Simply Uncoachable.
Know Your Options.
MODULE 3: THE COACHING PROCESS.
Module 3 Objectives.
Focus on Coach Role.
Coaching Prism.
The Big Picture.
MODULE 4: TRUST.
Module 4 Objectives.
Trust Me!
Establishing and Maintaining Trust.
Respectful Versus Disrespectful.
Level of Trust.
MODULE 5: THE INDICOM COACHING MODEL.
Module 5 Objectives.
The InDiCom Coaching Model.
Recap.
Coaching Demonstration.
Coaching Circle.
Video Coaching Scenarios (Optional).
End of Day.
MODULE 6: CLEAR COACHING SKILLS.
Total Recall.
Module 6 Objectives.
Diffi cult Decisions.
Using CLEAR Coaching Skills.
CSI—My Coaching Skills Gap.
Challenge.
Listen.
Encourage.
Ask.
Refine.
What You Should Know About CLEAR.
Practice, Practice, Practice = Coach.
MODULE 7: PLAN TO COACH.
Module 7 Objectives.
Plan to Coach.
Coach!
Debrief.
Performance Coaching Conversations.
MODULE 8: CREATING A COACHING FOR COMMITMENT CULTURE.
Module 8 Objectives.
Creating a Coaching Culture.
MODULE 9: BE THE COACH!

Module 9 Objectives.
Commit to the Shift.
Coaching for Commitment Action Plan.
Coaching Rediscovered.
Celebration Circle.
References.
About the Authors.
How to Use the CD-ROM.