Coastal Dunes: Form and Process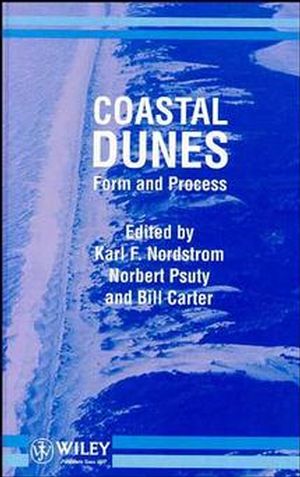 Coastal Dunes: Form and Process
ISBN: 978-0-471-91842-4
Aug 1991
410 pages
Description
Coastal Dunes Form and Process Edited by Karl F. Nordstrom Norbert Psuty Institute of Marine and Coastal Sciences, Rutgers University, New Brunswick, New Jersey 08903, USA and Bill Carter Department of Environmental Studies, University of Ulster, Coleraine, Co. Londonderry, BT52 1SA, Northern Ireland Coastal Morphology and Research Series Series Editor: Eric C. F. Bird This book deals with the formation and establishment of coastal dunes--considering both forms and processes in a wide variety of environments. These landforms are among the most sensitive to environmental change, yet they provide extensive protection against both short-term erosion and flooding and long-term sea-level rise. Until now, there has not been any major book to deal specifically with coastal dunes. The current volume surveys a range of dune features, such as the ephemeral characteristics in the rapidly subsiding Mississippi delta, the extensive sand sheets of Australia and South Africa and the Holocene dunes of Western Europe and North America. This book will provide essential background information for ecological and management studies of coastal dunes. It will be of immense value to geomorphologists, ecologists and other environmental scientists who work on the management of coastal dunes.
Partial table of contents:

EOLIAN PROCESSES AND SAND TRANSPORT.

Aeolian Sediment Transport: Theory and Measurement (D. Sherman & S. Hotta).

BEACH/DUNE INTERACTION.

Aeolian Sand Bodies of the South Louisiana Coast (W. Ritchie & S. Penland).

The Geomorphological, Ecological and Pedological Development of Coastal Foredunes at Magilligan Point, Northern Ireland (R. Carter & P. Wilson).

The Exchange of Materials Between Beach and Dune Systems (A. McLachan).

Erosional Landforms in Coastal Dunes (R. Carter, et al.).

SECONDARY DUNES AND DUNEFIELDS.

Geomorphology and Evolution of Active Transgressive Dunefields (P. Hesp & B. Thom).

EFFECTS OF HUMAN DEVELOPMENT.

Physical and Human Influences on Coastal Dune Development Between the Ribble and Mersey Estuaries, Northwest England (K. Pye).

Directions for Coastal Dune Research (K. Nordstrom, et al.).