Coating and Drying Defects: Troubleshooting Operating Problems, 2nd Edition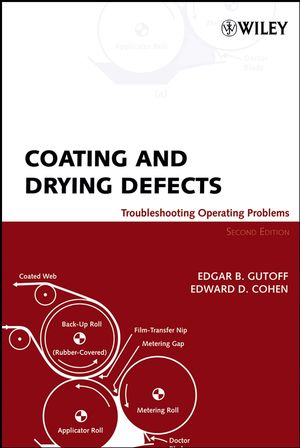 Coating and Drying Defects: Troubleshooting Operating Problems, 2nd Edition
ISBN: 978-0-470-04412-4 August 2006 400 Pages
Description
A practical guide for ensuring a defect-free coating and drying process
For professionals in the coating and drying industry, the world is a demanding place. New, technically complex products such as fuel cell membranes, thin film batteries, solar cells, and RFID chips require coatings of extreme precision. With the bar raised so high, understanding how to troubleshoot and eliminate defects on a coating line is an essential skill for all personnel.
Coating and Drying Defects, Second Edition provides manufacturing and quality control personnel, equipment operators and supervisors, and plant engineers and scientists with the full complement of proven tools and techniques for detecting, defining, and eliminating coating defects and operating problems, and for ensuring that they do not recur.
Updating the valuable contents of the first edition, this practical Second Edition:
Describes all major processes for coating and drying of continuous film on sheets or webs
Covers technologies that have been recently developed to prevent defect formation and improve operating procedures
Provides a rational framework within which to assess and analyze virtually any defect that may arise
Offers step-by-step guidelines for conducting every phase of the troubleshooting process, including defect prevention
Going beyond simply describing a disparate set of troubleshooting techniques, this unique guide arms readers with a systematic, nonmathematical methodology encompassing the entire coating operation, becoming an indispensable resource for manufacturing and quality-control personnel as well as plant engineers, polymer scientists, surface scientists, organic chemists, and coating scientists.
Preface.
Preface to the First Edition.
About the Authors.
1. Introduction.
2. Troubleshooting or Problem Solving Procedure.
Basic Troubleshooting Principles.
Detect The Defect.
Define the Defect Or Problem.
Name the Defect.
Problem Statement.
Collect and Analyze Additional Data.
Process Information.
General Process Information.
Analytical Data.
Standard Operating Procedures.
Analyze the Data and Identify Potential Causes of Problem.
Eliminate the Problem.
Document the Results.
Use Results to Prevent Reoccurrence.
References.
3. Coater and Defect Analytical Tools.
Overview of Analytical Tools.
Analytical Methods to Characterize Defects.
Defect Test Procedures.
Video Enhanced Microscopy.
Surface Characterization Techniques.
Coater Characterization Instruments.
The Coater Characterization Instruments.
Data Loggers.
Rheological Measurements.
Surface Properties.
On-Line Characterization Systems.
On‑Line Inspection Systems.
On-Line Coating Weight Measurement.
On-Line Viscosity.
Data Analysis Techniques.
Keeping Current.
4. Problems Associated with Feed Preparation.
Dirt and Other Particulates.
Filtration.
Agglomerates.
Bubbles.
Poor Cross-Web Uniformity.
In-Line Mixers.
Temperature Control.
Flow control for Down-Web Uniformity.
Feeding the Coating Liquid.
Flow Control.
References.
5. Problems Associated with Roll Coating and Related Processes.
Coating Methods.
Control of Coating Weight.
Ribbing.
Ribbing in Forward Roll Coating.
Ribbing and Cascade (or Herringbone or Seashore) in Reverse Roll Coating.
Cascade, or Herringbone, or Seashore .
Gravure Coating.
Streaks and Bands in Roll Coating.
Chatter in Roll Coating.
Sagging.
References.
6. Problems in Slot, Extrusion, Slide, and Curtain Coating.
Description of Coating Method.
Limits of Coatability.
The Window of Coatability.
Slide Coating.
Vortices and Eddies.
Slot Coating.
Extrusion Coating.
Curtain Coating.
Effect of Surface Roughness on the Limits of Coatability.
Instabilities in Pre-metered Coating.
Chatter.
Ribbing.
Neck-in.
Scalloped Edges.
Edge Beads and Heavy Edges.
Waves in Slide and in Curtain Coating.
Streaks and Bands in Pre-metered Coating.
References .
7. Coating Problems Associated with Coating Die Design.
Cross-web Uniformity.
Temperature Control.
Corrections to Coating Die Internals.
Die Internal Pressures and Spreading.
Extrusion Dies.
Wall Shear Stress Control and Residence Time Control.
References.
8. Surface-Tension-Driven Defects.
Surfactants.
Surface Tension Effects in Coating.
Surface-Tension-Driven Defects.
9. Problems Associated with Static Electricity.
Formation of Charges.
Electrostatic Fields.
Surface Resistivity.
Measurement of Static Charges.
Removal of Charges.
Free Charges.
Bound Charges.
References.
10. Problems Associated with Drying.
Dryer Control and Solvent Removal.
Dryer Condition Case History.
Dryer Defects.
Air Bar Rubs.
Blushing.
Bubbles and Blisters.
Cockle or Wrinkling.
Curl.
Mud Cracking.
Delamination.
Dryer Bands.
Dryer Remelt.
Dryer Contamination Spots.
Condensation Spots.
Haze.
Mottle.
Orange Peel and Crinkling.
Overspray.
Reticulation.
Surface Blow-Around.
Microscopic Defects.
Starry Night.
Pinholes.
The Role of Dryer Simulation in Troubleshooting.
The Role of Radiative Heating in Defect Reduction.
11. Problems Associated With Web Handling (Gerald I. Khebioan).
Web.
Web characteristics and Problems Associated with the Web.
Base web defects that cause wrinkling .
Causes of web defects.
Web Attributes.
Web camber.
Web cross-machine thickness profile variation.
Basis weight profile variation.
Surface of the web.
Plastic web.
Web Transport Systems.
Tension.
Reasons why operators must change tensions in order to successfully transport web.
Unwind Stand.
When to use drive motors on an unwind stand.
Web Control.
Core Selection and Build-Down Ratios.
Draw Rolls, Pull Rolls, Capstans.
Web slippage and what slip affects.
Nip rolls.
Un-nipped rolls (elastomer rolls).
Suction rolls.
Suction aprons or tables.
Increasing the Reliability of Draw Roll Sections.
Tension Isolation.
Differential tension.
Driving Web-Carrying Rolls Within a Dryer.
The Rewinder.
Surface/center rewinds.
Center-driven rewinds.
Drives for Laminators.
When to drive both laminator rolls.
Coating Roll Drives.
Coating Defects - Sources and Some Solutions.
Backlash exists in timing belts, gearboxes, and geared couplings.
Chatter caused by the roll.
Roll unbalance.
Non-concentric rolls .
Coating Roll Drive Systems.
Feedback devices.
Coating supply system.
Transmission of vibration through structural members to the coating stand.
Effects of Dryer Design on Coating Quality.
Troubleshooting ?Sudden? Coating Problems.
Monitoring Speeds and Tensions of Webs.
A speed monitoring system.
Monitoring the speed of idler rolls.
Monitoring for slip conditions on high speed coaters.
Tension monitoring systems.
Specifying the tension range.
Why is tension control needed.
Effects of wiring practices on tension control.
When do you use a pure speed control.
Equipment Lists Avoid Problems and Help Plant Personnel.
Frequency and Direction of a Speed Perturbation.
Problems that Occur After the Machine is in Production.
Types of Tension Control Systems.
Motor Current Regulation.
Dancer Roll Control.
Force Transducer Control.
Section Characteristics that Ensure Good Web Transport Control.
Master or Lead Section.
Sections with Limited Ability to Control Web Transport or Tension.
Drive Features that Give the Operator Additional Tools.
Tools that are Used for Troubleshooting Drive Problems.
Optical Alignment Tooling and Laser Technology.
Summary.
General References.
12. The Role of Process Support Equipment.
Introduction.
Definitions.
Defect Support Equipment Interactions.
Support Equipment Effect on Defects.
Mechanical Chatter.
Serpentine Chatter.
Poor Physical Uniformity.
Contamination Spots.
Low Overall Productivity.
Defects Due to Static Electricity.
Scratches.
Streaks.
Mottle.
Coating Weight Non-uniformity In Pre-metered Applicators.
Coating Weight Non-uniformity in Self Metered and Doctor Coaters.
Air Bar Rubs In A Floater Dryer.
Dry Point Variability.
Selection of Equipment.
13. Coating Defects Databases.
Need For Coating Defects Database.
Defects Database: Examples.
Base Flake.
Roll Repeats.
Bubbles.
Bacteria Bubbles.
Aimcal Defects Lexicon: Guide to Web Coating Technology.
Description of Lexicon.
Lexicon Overview.
Lexicon Sections.
Troubleshooting Guide.
Defect Image Section.
Search Capability.
Availability.
References.
14. Defect Prevention.
Introduction.
Define Product And Process Requirements.
Insure Availability Of Valid Analytical Techniques.
Insure Web Coating Process Meets Specifications.
Insure Web Coating Process Meets Specifications.
Develop And Implement Operational Procedures.
Quantify And Understand Defect Losses .
Use Structured Troubleshooting Protocol .
Computer Database To Store & Share Information.
Implement Improved Process Technology.
Use Statistical Process Control.
Develop Fundamental Process Understanding.
Index.
""…this text belong center stage in all college-level libraries--a one-of-a-kind resource that speaks to its subject in eloquent and comprehensive terms."" (Electric Review, February/March 2007)