Cocker Spaniel: Your Happy Healthy PetTM, 2nd Edition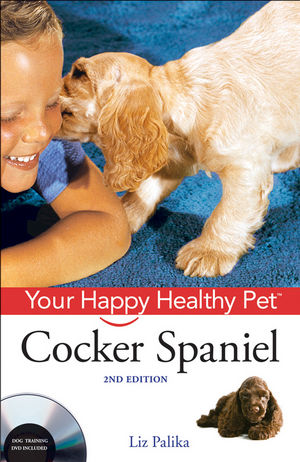 Cocker Spaniel: Your Happy Healthy PetTM, 2nd Edition
ISBN: 978-0-470-39060-3
Jan 2009
144 pages
Product not available for purchase
Description
This fully-revised all-encompassing guide to Cocker Spaniels features everything new owners need to know from preparing for the new pup to geriatric care. All new full-color photography and an included 30-minute training DVD make this a package that can't be passed up.
* Updated coverage: Comprehensive guidance and information for the Cocker Spaniel owner. From understanding the breed behaviors and characteristics to choosing the right pup to grooming, feeding, and training, readers will have an all-encompassing guide.
* Assured quality: This book is ideal for a new dog owner. The all-new full-color photos create its visual appeal; the sturdy hardcover and preprinted cases produce functionality.
* Author expertise: The Happy Healthy Pet books are written by respected and established authors. Information is readable and to-the-point and presented in an easy-to-follow format.

The 30-minute dog training DVD is a perfect complement to this new edition. The DVD is made precisely for owners of medium sized dog breeds; it covers the training approach, practical commands like heeling and staying, correcting inappropriate behaviors like jumping up and chewing, fun tricks like shaking and rolling over, and a bonus chapter. This bonus chapter is unique because it is breed-specific-- a Cocker Spaniel owner will learn specifically about the personality traits and habits that are characteristic of Cocker Spaniels. This kind of breed-specific coverage enables owners to cater their training, care, and attention to their Cocker Spaniel.

Note: CD-ROM/DVD and other supplementary materials are not included as part of eBook file.
Part I: The World of the Cocker Spaniel.
Chapter 1: What Is a Cocker Spaniel?
What Is an American Cocker Spaniel?
The Cocker Spaniel's Appearance.
Cocker Character.
Chapter 2: Cocker Spaniels Yesterday and Today.
Origins of the Breed.
Cocker Spaniels in America.
The Pitfalls of Popularity.
Chapter 3: The World According to Cocker Spaniels.
Are You Ready for a Dog?
The Pet Cocker Spaniel.
Problems with Cocker Spaniels.
If Cockers Could Choose Their Owners.
Chapter 4: Choosing Your Cocker Spaniel.
Breeder, Rescue, Shelter, or Free?
Finding the Right Cocker for You.
Choosing Your Cocker.
Puppy Temperament Test.
Choosing an Adult Cocker Spaniel.
Part II: Caring for Your Cocker Spaniel.
Chapter 5: Bringing Your Cocker Spaniel Home.
Puppy-Proofing Your Home and Yard.
Puppy-Proofing Your Home.
Basic Supplies.
Puppy Essentials.
When Your Dog First Comes Home.
Pet Professionals.
Chapter 6: Feeding Your Cocker Spaniel.
Commercial Dog Foods.
Homemade Diets.
Feeding Your Dog.
Reading Dog Food Labels.
Chapter 7: Grooming Your Cocker Spaniel.
Routine Care.
Grooming Your Cocker Yourself.
External Parasites.
Making Your Environment Flea Free.
Chapter 8: Keeping Your Cocker Spaniel Healthy.
Health Problems Seen in Cockers.
Know Your Dog's Normal.
When to Call the Veterinarian.
Internal Parasites.
Emergency Care.
How to Make a Canine First-Aid Kit.
Geriatric Care.
Part III: Enjoying Your Cocker Spaniel.
Chapter 9: Training Your Cocker Spaniel.
Understanding Builds the Bond.
Practical Commands for Family Pets.
Training for Attention.
Teaching Cooperation.
Chapter 10: Housetraining Your Cocker Spaniel.
Your Housetraining Shopping List.
The First Day.
Confine Your Pup.
Watch Your Pup.
Accidents Happen.
Scheduling Basics.
Appendix: Learning More About Your Cocker Spaniel.
Some Good Books.
Magazines.
Clubs and Registries.
On the Internet.
Index.