Code of Practice for Project Management for Construction and Development, 3rd Edition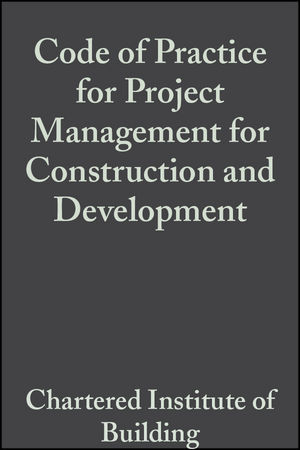 Code of Practice for Project Management for Construction and Development, 3rd Edition
ISBN: 978-0-470-77371-0 February 2008 Wiley-Blackwell 240 Pages
Description
In 1991 the Chartered Institute of Building initiated a multi-institute task force and a Code of Practice for Project Management was published in 1992, with a second edition in 1996. Like previous editions, this third edition has been substantially revised to embody the results of intensive consultation between the CIOB and representatives of the professional bodies concerned with construction and development.
The Code is divided into two sections:
the first covers eight stages associated with projects from inception to completion, each one well supported with diagrams, flowcharts and checklists
the second section contains a project handbook, complete with guidance documentation and checklists.
The third edition features new guidance on:
project planning
EU procurement procedures
performance management plan
partnering
project risk assessment
environmental impact assessment
procurement options and
value for money framework.
Effective project management involves the assessment and management of risk, and this is a strong theme throughout the Code.
The Code of Practice provides an authoritative guide to the principles and practice of construction project management. It will be a key reference source for clients, contractors and professionals, irrespective of the size and nature of the project. Much of the information is also relevant to project managers in other commercial spheres.
On the last edition:
"The code is an outstanding example of collaboration between key professional industry bodies working in a team ... it represents a significant step forward ... to help achieve successful outcomes for both clients and the construction industry."
—Sir Michael Latham
"I strongly recommend this valuable multi-institutional code of practice to all who are involved in construction project management and development."
—Sir Stuart Lipton
Table of contents
Introduction; Part 1 Project management - Inception stage; Feasibility stage; Strategy stage; Pre-construction stage; Construction stage; Engineering services commissioning stage; Completion, handover and occupation stage; Post-completion review/project close-out report stage; Appendices; Part 2 Project handbook - Introduction; Aims of the handbook; Parties to the project; Third parties; Roles and duties of the project team; Project site; General administration including communication and document control; Contract administration; Design co-ordination; Change management; Site instructions; Cost control and reporting; Planning programmes and progress reporting; Meetings; Selection and appointment of contractors; Safety, health and environmental protection; Quality assurance (QA) - outline; Disputes; Signing off; Reporting; Construction stage; O & M; Engineering services commissioning; Completion and handover; Client commissiong and occupation; Appendices; Glossary; Bibliography; Index
Reviews
The code is an outstanding example of collaboration between key professional industry bodies working in a team...it represents a significant step forward...to help achieve successful outcomes for both clients and the construction industry
Sir Michael Latham
I strongly recommend this valuable multi-institutional code of practice to all who are involved in construction project management and development Sir Stuart Lipton
Features


provides guidance for project management of increasingly complex construction projects, ensuring systematic documentation and quality control


each stage of project management is discussed, and specimen forms, checklists and typical documentation provides


the code is recognised as an industry standard


second edition published by Longman (0582276802)