Coffee - Philosophy for Everyone: Grounds for Debate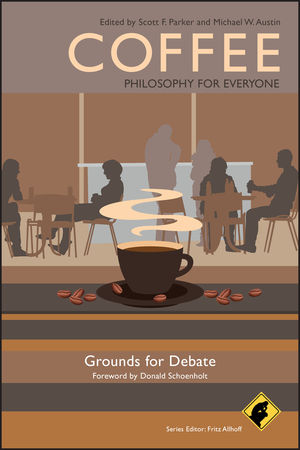 Coffee - Philosophy for Everyone: Grounds for Debate
ISBN: 978-1-444-33712-9
Mar 2011, Wiley-Blackwell
264 pages
Description
Offering philosophical insights into the popular morning brew, Coffee -- Philosophy for Everyone kick starts the day with an entertaining but critical discussion of the ethics, aesthetics, metaphysics, and culture of coffee.
Matt Lounsbury of pioneering business Stumptown Coffee discusses just how good coffee can be
Caffeine-related chapters cover the ethics of the coffee trade, the metaphysics of coffee and the centrality of the coffee house to the public sphere
Includes a foreword by Donald Schoenholt, President at Gillies Coffee Company
Buy Both and Save 25%!
Original Price:$48.90
Purchased together:$36.68
save $12.22
Cannot be combined with any other offers.
Foreword (
Donald Schoenholt
).
Editors' Introduction (Scott F. Parker and Michael W. Austin).
PART 1 THE FIRST CUP: COFFEE AND METAPHYSICS.
1 Coffee: Black Puddle Water or Panacea? (Mark Pendergrast).
2 The Necessary Ground of Being (Michael W. Austin).
3 The Unexamined Cup Is Not Worth Drinking (Kristopher G. Phillips).
4 Sam. sara in a Coffee Cup: Self, Suffering, and the Karma of Waking Up (Steven Geisz).
5 The Existential Ground of True Community: Coffee and Otherness (Jill Hernandez).
PART 2 GROUNDS FOR DEBATE: COFFEE CULTURE.
6 Sage Advice from Ben's Mom, or: The Value of the Coffeehouse (Scott F. Parker).
7 The Coffeehouse as a Public Sphere: Brewing Social Change (Asaf Bar-Tura).
8 Café Noir: Anxiety, Existence, and the Coffeehouse (Brook J. Sadler).
9 The Philosopher's Brew (Bassam Romaya).
PART 3 THE WONDERFUL AROMA OF BEAN: COFFEE AESTHETICS.
10 Three Cups: The Anatomy of a Wasted Afternoon (Will Buckingham).
11 Is Starbucks Really Better than Red Brand X? (Kenneth Davids).
12 The Flavor of Choice: Neoliberalism and the Espresso Aesthetic (Andrew Wear).
13 Starbucks and the Third Wave (John Hartmann).
14 How Good the Coffee Can Be: An Interview with Stumptown's Matt Lounsbury (Scott F. Parker).
PART 4 TO ROAST OR NOT TO ROAST: THE ETHICS OF COFFEE.
15 More than 27 Cents a Day: The Direct Trade (R)evolution (Gina Bramucci and Shannon Mulholland).
16 Higher, Faster, Stronger, Buzzed: Caffeine as a Performance-Enhancing Drug (Kenneth W. Kirkwood).
17 Green Coffee, Green Consumers – Green Philosophy? (Stephanie W. Aleman).
18 Coffee and the Good Life: The Bean and the Golden Mean (Lori Keleher).
How to Make it in Hollywood by Writing an Afterword! (The Coffee Bean Guys).
Notes on Contributors.
"This is not going to be an impulse buy or something to necessarily give to that special coffee-lover in your life, but if you take the time to examine the book with an open, curious mind it might be something that can keep you company with, of course, a good cup of something during a long journey."  (Yum.fi, 2012)
"A delightful book for philosophically minded coffee drinkers ... Philosophically minded coffee drinkers will find the contents of their cup enhanced by the contents of the book." (Network Review, 1 June 2011)
"And so, the book devotes itself to coffee and philosophy from varied perspectives, some seemingly frivolous, and others deeply analytical . . . I suspect that the book will appeal most to coffee devotees who enjoy lively conversation and see the world, as well as that black liquid in their cups, from a dialectical point of view." (Metapsychology, 9 August 2011)
"Grounds for Debate is a fantastic read-providing insights into the coffee culture that even a tea drinker can appreciate. The collection encourages readers to consider their relationship to larger social practices that have resounding effects on daily life." (Anthropology in Practice, 30 June 2011)
"This may possibly be the most unusual coffee book you will read. Instead of just the usual history of
it, this is the latest in a long series of titles written by philosophicalheavyweights, discussing subjects
from Christmas to cycling." (Boughton's Coffee House magazine, 1 March 2011)
"In interesting, educational, and often funny selections, we learn facts both surprising (most coffee farmers and people living in coffee-growing regions have no idea why anyone would want to drink the stuff) and rudimentary. . . this is more sociology than philosophy, but a smattering of deep (enough) thoughts from the likes of Hume, Bourdieu, Kant, and others will keep true addicts--of both coffee and philosophy--stimulated". (Publishers Weekly, 18 April 2011)
"The book - a part of the Philosophy for Everyone series - takes on all sides of the debate, historical and contemporary, over coffee's meritstates." (Jezebel, ,14 April 2011)
"The book will also stimulate those seeking to understand the aesthetics and ethics of coffee." (The Guardian, 14 April 2011)
"A varied compilation of musings on the beverage that has hooked countless people since its discovery in the 15th century by Ethiopian Sufi monks. The authors ... take on the history, taste and ethics of coffee in 18 essays likely to elicit much dialogue and debate. The book also includes engaging discussions of caffeine's classification as a drug, the emergence of green coffee and the evolution of the coffehouse into a public forum. A blend of humor and thought-provoking content guaranteed to stimulate readers' intellect." (Kirkus Reviews, March 2011)
"In this addition to an accessible and substantive series, 18 new essays, with coffee and coffee culture as their shared theme, relay the relationship between the coffee-related contemporary and everyday and the ideas and ideals on which the history of formal philosophy has been built. Recommended for coffee and philosophy aficionados. This entry in the series may well also be of interest for book discussion groups." (Library Journal, March 2011)