Cognitive Behaviour Therapy for Chronic Medical Problems: A Guide to Assessment and Treatment in Practice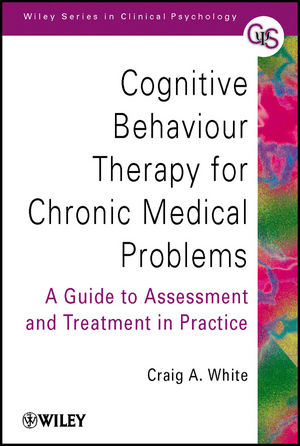 Cognitive Behaviour Therapy for Chronic Medical Problems: A Guide to Assessment and Treatment in Practice
ISBN: 978-0-471-49482-9
Oct 2001
324 pages
Description
This title offers a unique general introduction to methods and clinical experience of CBT for a wide range of medical conditions, specifically focusing on chronic illness. A concise, accessible clinical text which assumes basic knowledge of CBT using clinical examples and vignettes to illustrate assessment and therapy.

? Includes a range of typical and important medical conditions that require long-term management

? Fills a gap in this growing area of professional work and training
List of Figures.

List of Tables.

About the Author.

Preface.

Acknowledgements.

PART I: GENERAL COMPONENTS OF CBT FOR CHRONIC MEDICAL PROBLEMS.

Introduction.

Assessment.

Formulation.

Treatment Strategies.

PART II: THE APPLICATION OF CBT TO SPECIFIC CHRONIC MEDICAL PROBLEMS.

Cancer.

Chronic Pain.

Diabetes.

Dermatology.

Surgical Problems.

Cardiac Problems.

PART III: PROFESSIONAL PRACTICE AND SERVICE DELIVERY.

Professional Issues.

Service Provision.

PART IV: APPENDICES.

Appendix 1: Illness Perception Questionnaire.

Appendix 2: Cancer Behavior Inventory (Version 2.0).

Appendix 3: Pain Stages of Change Questionnaire.

References.

Index.
"…absolutely required reading…I highly recommend this timely book, without reservation…" (Jnl of Cognitive Psychotherapy, Winter 2002)