Cognitive Behavioural Therapy For Dummies®, UK Edition, WHS Travel Edition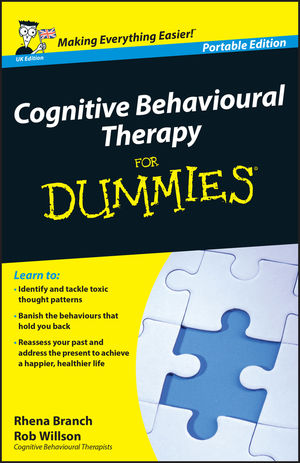 Cognitive Behavioural Therapy For Dummies®, UK Edition, WHS Travel Edition
ISBN: 978-1-119-97437-6
May 2011
272 pages
Product not available for purchase
Description
Enhance your outlook and develop new ways of thinking
Cognitive Behavioural Therapy focuses on how you react to a situation, encouraging you to create new thought patterns to combat destructive beliefs and actions. This edition of the bestselling guide to CBT helps you identify the negative modes of thinking that have been holding you back and shows you how to assess and combat them. Whether you want to rise above anxiety or depression, boost your self-esteem or simply improve your overall outlook, the building blocks for a happier life are right here.
Read the signs – learn to explore your emotions and spot errors in your thinking

Maintain your mind – use psychological gardening to weed away negative thoughts and watch your positivity bloom

Set the goalposts of success – train your sights on achievable tasks and look forward to the future

Don't be afraid – discover how to control your anxiety and learn to face your fears
'Don't be put off by the title – this is one of the most comprehensive guides to CBT'
–The Sunday Times
Open the book and find:
Techniques to refocus and retrain your awareness

Why some 'solutions' are actually causing you problems

Ways to get rid of unhealthy guilt

The benefits of loosening your grip on control

Ways to maintain and strengthen positive beliefs

Guidance on accepting your past and enjoying the present

How to lighten up and enjoy life
Learn to:
Identify and tackle toxic thought patterns

Banish the behaviours that hold you back

Reassess your past and address the present to achieve a happier, healthier life
Introduction.
Part I: Introducing CBT Basics.
Chapter 1: You Feel the Way You Think.
Chapter 2: Accidental Thinking Mistakes.
Chapter 3: Tackling Toxic Thoughts.
Chapter 4: Behaving like a Scientist: Designing and Conducting Behavioural Experiments.
Part II: Charting the Course: Defining Problems and Setting Goals.
Chapter 5: Exploring Emotions.
Chapter 6: Identifying Solutions That Cause You Problems.
Chapter 7: Setting Your Sights on Goals.
Part III: Putting CBT Into Action.
Chapter 8: Standing Up to Anxiety and Facing Fear.
Chapter 9: Deconstructing and Demolishing Depression.
Chapter 10: Overcoming Low Self-Esteem and Accepting Yourself.
Part IV: Looking Backwards and Moving Forwards.
Chapter 11: Taking a Fresh Look at Your Past.
Chapter 12: Moving New Beliefs from Your Head to Your Heart.
Chapter 13: Heading for a Healthier and Happier Life.
Chapter 14: Overcoming Obstacles to Progress.
Chapter 15: Psychological Gardening: Maintaining Your CBT Gains.
Part V: The Part of Tens.
Chapter 16: Ten Healthy Attitudes for Living.
Chapter 17: Ten Ways to Lighten Up.
Index.