Cognitive Behavioural Therapy Workbook For Dummies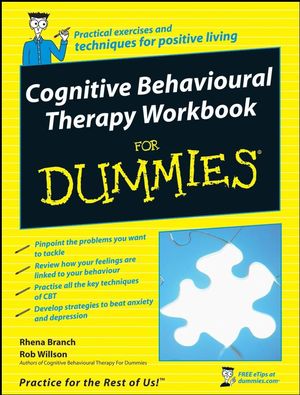 Cognitive Behavioural Therapy Workbook For Dummies
ISBN: 978-1-119-99218-9 December 2010 322 Pages
Description
CBT is a proven and effective approach to mastering your thoughts, and here the authors of
Cognitive Behavioural Therapy For Dummies
show you step-by-step how to put the lessons of their book into practice.
Inside you'll find a huge number of hands-on exercises and techniques to help you remove roadblocks to change - whether you're seeking to overcome anxiety and depression, boost self-esteem, lose weight, beat addiction or simply improve your outlook in your professional and personal life – and regain control over your life.
Rhena Branch and Rob Willson are CBT therapists at the Priory Clinic in London, and the authors of Cognitive Behavioural Therapy For Dummies.
Table of contents
Introduction
Part 1: Pinpointing Primary Principles.
Chapter 1: Linking your Feelings to your Thinking.
Chapter 2: Recognising Problematic Thinking Patterns.
Chapter 3: Taking Toxic Thinking in Hand.
Chapter 4: Experiencing Experiments.
Chapter 5: Where's Your Head At!? Controlling Your Concentration.
Part 2: Pinning Down Problems and Giving Yourself Goals.
Chapter 6: Getting Emotional.
Chapter 7: Targeting Troublesome Tactics.
Chapter 8: Getting Goal Directed.
Part 3: Putting CBT into Practice.
Chapter 9: Taking an Axe to Anxiety .
Chapter 10: Dealing a Blow to Depression .
Chapter 11: Techniques to Trounce all Over Obsessions.
Chapter 12: Lifting Low Self Esteem.
Chapter 13: Making friends and Maintaining Relationships.
Part 4: Forging into the Future.
Chapter 14: Examining Long-Standing Beliefs.
Chapter 15: Consolidating Conviction in New Core Beliefs.
Chapter 16: Delving into Personal Development.
Chapter 17: Rupturing Roadblocks to Recovery.
Chapter 18: Putting into Practice Principles that Promote Positive Living.
Part 5: The Part of Tens.
Chapter 19: Ten Tips for Working with Professionals.
Chapter 20: Ten Tips for Getting a Good Nights Sleep.
Chapter 21: Ten reasons to never give up.
Index.