Cognitive Behavioural Therapy for Dummies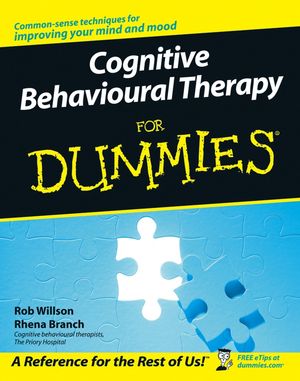 Cognitive Behavioural Therapy for Dummies
ISBN: 978-0-470-68698-0
Sep 2009
348 pages
Description
"We all have aspects of ourselves that we would like to change, but many of us believe that a leopard can't change its spots – if that's you, stop there! Cognitive Behavioural Therapy for Dummies will help identify unhealthy modes of thinking – such as "a leopard can't change it's spots"! – that have been holding you back from the changes you want. CBT can help whether you're seeking to overcome anxiety and depression, boost self-esteem, lose weight, beat addiction or simply improve your outlook in your professional and personal life."
Introduction.
Part I: Introducing CBT Basics.
Chapter 1: You Feel the Way You Think.
Chapter 2: Spotting Errors in Your Thinking.
Chapter 3: Tackling Toxic Thoughts.
Chapter 4: Behaving like a Scientist: Designing and Conducting Behavioural Experiments.
Chapter 5: Pay Attention! Refocusing and Retraining Your Awareness.
Part II: Charting the Course: Defining Problems and Setting Goals.
Chapter 6: Exploring Emotions.
Chapter 7: Identifying Solutions That Cause You Problems.
Chapter 8: Setting Your Sights on Goals.
Part III: Putting CBT into Action.
Chapter 9: Standing Up to Anxiety and Facing Fear.
Chapter 10: Deconstructing and Demolishing Depression.
Chapter 11: Overcoming Obsessions.
Chapter 12: Overcoming Low Self-esteem by Accepting Yourself.
Chapter 13: Cooling Down Your Anger.
Part IV: Looking Backwards and Moving Forwards.
Chapter 14: Taking a Fresh Look at Your Past.
Chapter 15: Moving New Beliefs from Your Head to Your Heart.
Chapter 16: Heading for a Healthier and Happier Life.
Chapter 17: Overcoming Obstacles to Progress.
Chapter 18: Psychological Gardening: Maintaining Your CBT Gains.
Chapter 19: Working with the Professionals.
Part V: The Part of Tens.
Chapter 20: Ten Healthy Attitudes for Living.
Chapter 21: Ten Self-Esteem Boosters That Don't Work.
Chapter 22: Ten Ways to Lighten Up.
Chapter 23: Ten Books to Add to Your Library.
Appendix A: Resources.
Appendix B: Forms.
Index.
"…I think clinicians could find useful sections in this book…" (
The Psychologist
, September 2006)
"Well-written series" (Woman's Weekly, 15th March 2007)
"...[an] excellent book" (First, Monday 5th November 2007)
"Don't be put off by the title - this is one of the most comprehensive guides to CBT."  (Sunday Times, Monday 17th December 2007)