Cognitive-Behavioural Therapy in the Treatment of Addiction: A Treatment Planner for Clinicians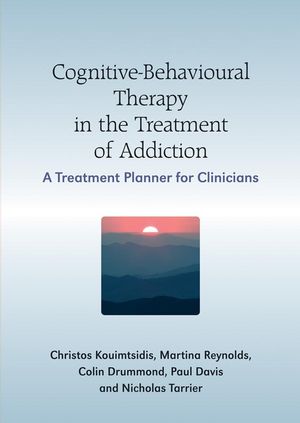 Cognitive-Behavioural Therapy in the Treatment of Addiction: A Treatment Planner for Clinicians
ISBN: 978-0-470-06082-7
Aug 2007
198 pages
Description
Treating individuals with a substance misuse problem can be challenging, especially if clients present with multiple problems related to the main addiction. Clinicians can feel at a loss as to where to begin, or revert to an attempt to treat underlying problems - ignoring damaging aspects of the substance misuse itself. At times referral to specialists may seem the only responsible way forward. Written by a team of clinical academics in the field of addictions, Cognitive-Behavioural Therapy in the Treatment of Addictions is a ready reference for clinicians that offers a brief, evidence-based, collaborative approach that starts here and now. Client and therapist embark together on a journey to tackle the problem in a practical way. The book includes session tools, worksheets and daily thought records.
About the Authors.
Foreword.
Preface.
Acknowledgements.
Chapter 1. Overview and Use of the Book.

Chapter 2. Introduction to Cognitive-Behaviour Theory and Research Evidence.

Chapter 3. Cognitive and Behavioural Techniques.

Chapter 4. Agenda Setting and Structure of Sessions.

Chapter 5. Assessment and Case Formulation.

Chapter 6. Core Topics.

Chapter 7. Elective Topics.

Chapter 8. Therapist Training and Supervision.

Appendix I.

Appendix II.

Appendix III.

Appendix IV.

References.
Index.
""The manual provides comprehensive information regarding CBT approaches to substance use … .One of its strengths is that the authors propose that their model and techniques can be transferred to all substances."" (
Drug and Alcohol Review
, January 2009)
""This book is likely to be a well-used resource for clinicians to establish individualized CBT treatments for all types of addiction."" (Behavioural & Cognitive Psychotherapy, July 2008)
""I cannot praise this book highly enough.  I would think that anyone at whatever level of experience will gain something from the book."" (Clinical Psychology Forum)
""A comprehensive manual … It provides clear guidelines and information in relation to addiction and CBT and is both useful and informative."" (Journal of Analytical Psychology)