Cognitive Capitalism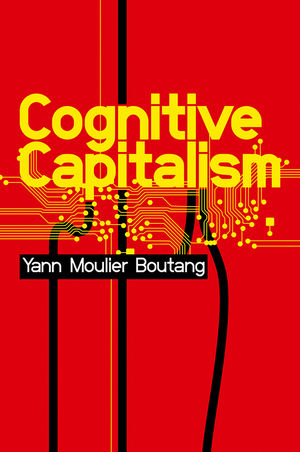 Cognitive Capitalism
ISBN: 978-0-745-64733-3 May 2012 Polity 200 Pages
Description
We live in a time of transition, argues Yann Moulier Boutang. But the irony is that this is not a transition to a new type of society called 'socialism', as many on the Left had assumed; rather, it is a transition to a new type of capitalism. Socialism has been left behind by a new revolution in our midst. 'Globalization' effectively corresponds to the emergence, since 1975, of a third kind of capitalism. It does not have much to do with the industrial capitalism which, at the point of its birth (1750-1820), broke with earlier forms of mercantile capitalism. The aim of this book is to describe and explain the characteristics of this third age of capitalism.

Boutang coins the term 'cognitive capitalism' to describe this new form of capitalism. While this notion remains a working hypothesis, it already provides some basic orientations and anchor points which are indispensible for political action. The political economy which was born with Adam Smith no longer offers us the possibility of understanding the reality which is being constructed before our eyes - namely the value, wealth and complexity of the world economic system Ð and it also does not enable us to deal with the challenges that await humanity, whether ecological or social. This book thus seeks to put us onto the path of a provisional politics and morality capable of dealing with this new Great Transformation.
Table of contents
Preface to the English edition
Introduction
Chapter I
The New Frontiers of Political Economy
Chapter II
What cognitive capitalism is not
Chapter III
What is cognitive capitalism?
Chapter IV
New capitalism, new contradictions
Chapter V
The question of social classes and the composition of cognitive capitalism
Chapter VI
Macroeconomic dynamics: going beyond the critique of neoliberalism and financialisation
Chapter VII
Envoi: A Manifesto for the Pollen Society
Chapter VIII
Does the financial crisis sound the knell of a capitalism cognitive that is stillborn?

Reviews
"The most systematic and comprehensive account of the economic position developed by the autonomist school of thought."
Political Studies Review
"Valuable for the way it prompts readers into asking uneasy questions about the nature of the economic system we live in."
LSE Politics Blog
"What drives contemporary capitalism? Moulier Boutang provides a convincing answer in his account of the rise of a turbocharged complex of practices which he calls cognitive capitalism which is intent on calling the collective intelligence provided by brainpower and computing power to its cause. A theoretical must for anyone who wants to understand the modern world."
Nigel Thrift, University of Warwick
"Yann Moulier Boutang presents a bold analysis of the ongoing 'great transformation' of capitalism. Writing from the perspective of the socialization of labor, he offers a systematic examination of the dense, complex, and contradictory relation between emergent modes of capitalist control and appropriation and collective cognitive labor-power expressed through new information and communication technologies. This new terrain of confrontation conceptually and practically subverts our received understandings of labor, property, and value. Relations between material and non-material, mental and manual, economic and social, individual and society are recast in unprecedented ways that transform the conditions and possibilities of social life. Cognitive Capitalism is essential reading."
Dale Tomich, Binghamton University
"This book counters the risk society's negative externalities with the possibility of positive externalities of information. This is cognitive capitalism's new, networked public space, an informational commons. In the terminal crisis of neoliberalism, Moulier Boutang gives us a new critical political economy - and a media theory - of hope."
Scott Lash, Goldsmiths, University of London
What's New
This book argues that we are undergoing a transition from industrial capitalism to a new form of capitalism - what the author calls 'cognitive capitalism'.
Cognitive capitalism is a form of capitalism based on the accumulation of 'immaterial capital', the dissemination of knowledge and the driving role of the knowledge economy. Knowledge, science and technology become leading productive forces, and cooperation within networks becomes crucial.
The author argues that the fact that we now live in a new form of capitalist society, characterized by the central role of knowledge and networks, has far-reaching social and political implications which are spelled out in this book.
The arguments of this book resonate with those developed by Hardt and Negri in their bestselling book Empire and this book will appeal to a similar readership. It will also appeal to students and scholars in sociology, politics, cultural studies and the humanities and social sciences generally.