Cognitive Psychology, 8th Edition International Student Version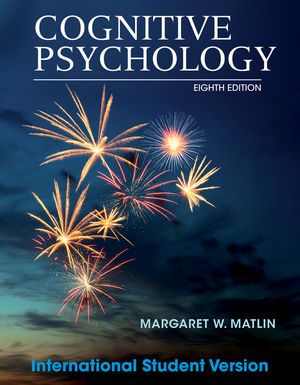 Cognitive Psychology, 8th Edition International Student Version
ISBN: 978-1-118-31869-0
Mar 2013
640 pages
Product not available for purchase
Description
Margaret Matlin's Cognitive Psychology demonstrates how cognitive processes are relevant to everyday, real-world experiences, and frequently examines how cognition can be applied to other disciplines such as clinical psychology, social psychology, consumer psychology, education, communication, business, medicine, and law. The 8th edition continues to relate cognitive topics to applications in everyday life. This edition is fully updated with research and additional anecdotes. It also includes more research on neuroscience.
CHAPTER 1: An Introduction to Cognitive Psychology
CHAPTER 2: Perceptual Processes I: Visual and Auditory Recognition
CHAPTER 3: Perceptual Processes II: Attention and Consciousness
CHAPTER 4: Working Memory
CHAPTER 5: Long-Term Memory
CHAPTER 6: Memory Strategies and Metacognition
CHAPTER 7: Mental Imagery and Cognitive Maps
CHAPTER 8: General Knowledge
CHAPTER 9: Language I: Introduction to Language and Language Comprehension
CHAPTER 10: Language II: Language Production and Bilingualism
CHAPTER 11: Problem Solving and Creativity
CHAPTER 12: Deductive Reasoning and Decision Making
CHAPTER 13: Cognitive Development Throughout the Lifespan
Glossary
References
Credits
Name Index
Subject Index
Chapter 2 includes new information about children's object recognition, top-down processing, inattentional blindness, face recognition

Chapter 3 includes new information about multi-tasking, distracted driving, mindless reading and mindwandering
Chapter 4 includes updated information about the phonological loop, working memory and academic performance
Chapter 5 includes new information about false memory, eyewitness testimony; the topic of meta-analysis is introduced in connection with the "ndividual differences"feature
Chapter 6 includes new and updated information on memory strategies, retrieval practice, metacognition, metamemory, embodied cognition and metacomprehension
Chapter 7 includes new information about spatial thinking in children, auditory imagery, mental rotation and the ""situated cognition approach.""
Chapter 8 includes updated information and research about ""Schemas and Inferences"" and ""Schemas and Memory Selection.""
Chapter 9 includes updated information on neurolinguistics, aphasia and fMRI research relevant to language tasks
Chapter 10 includes a new topic, ""Using Gestures: Embodied Cognition,"" new information on Lee and Pinker's work on direct and indirect requests and Lakof's work on framing, as well as substantially more information about bilingualism
Chapter 11 includes additional information about research on problem-solving, embodied cognition and creativity
Chapter 12 includes new or updated information about decision-making
Chapter 13 includes new information about children's source monitoring, children's metamemory, ADHD in children and working memory in elderly people.
Clear, engaging writing with numerous examples: Students do not need to struggle to understand overly complex descriptions, yet Matlin's writing style is not condescending.

Extensive, useful pedagogical devices: Students can read the chapters and master the material on their own, without requiring guidance from their professor.

Application of cognitive psychology to other disciplines: Many applications relate to careers that students may intend to pursue, such as education, business, clinical psychology, and law.

Author-tested text: Prof. Matlin has tested most of the material in each edition with her students and knows which topics are likely to be difficult for students and which examples are especially helpful.