Cognitive Psychotherapy of Psychotic and Personality Disorders: Handbook of Theory and Practice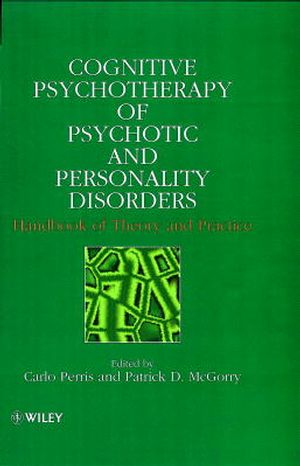 Cognitive Psychotherapy of Psychotic and Personality Disorders: Handbook of Theory and Practice
ISBN: 978-0-471-98221-0
Jan 1999
468 pages
Description
This book reviews the development of Cognitive Behavior Therapy (CBT) and its use with patients suffering from schizophrenia or other severe personality disorders. The effectiveness of CBT is highlighted through case studies of dissociative disorders, borderline personality disorders and narcissistic personality disorders. A special section on dealing with uncommunicative patients with personality disorders completes the overview.
Psychotherapeutic and Cognitive-behavioral Treatments for Schizophrenia: Developing a Disorder-specific Form of Psychotherapy for Persons with Psychosis (L. Davidson, et al.).

Defining the Concept of Individual Vulnerability as a Base for Psychotherapeutic Interventions (C. Perris).

When the Going Gets Tough: Cognitive Therapy for the Severely Disturbed (T. Vallis).

The Assessment of Dysfunctional Working Models of Self and Others in Severely Disturbed Patients: A Preliminary Cross-National Study (C. Perris, et al.).

State-of-the-Art Approaches in the Treatment of Information-Processing Disorders in Schizophrenia (B. Hodel & H. Brenner).

Cognitive-behavioural Coping-Orientated Therapy for Schizophrenia: A New Treatment Model for Clinical Service and Research (A. Schaub).

Options and Clinical Decision Making in the Assessment and Psychological Treatment of Persistent Hallucinations and Delusions (L. Yusupoff & G. Haddock).

Understanding the Inexplicable: An Individually Formulated Cognitive Approach to Delusional Beliefs (D. Fowler, et al.).

Pathogeny and Therapy (S. Sassaroli & R. Lorenzini).

Early Intervention in Psychotic Disorders: A Critical Step in the Prevention of Psychological Morbidity (J. Edwards & P. McGorry).

An Integrated, Multilevels, Metacognitive Approach to the Treatment of Patients with a Schizophrenic Disorder or a Severe Personality Disorder (C. Perris & L. Skagerlind).

Preventively-Orientated Psychological Interventions in Early Psychosis (P. McGorry, et al.).

The Grief of Mental Illness: Context for the Cognitive Therapy of Schizophrenia (V. Lafond).

A Systematic Cognitive Therapy Approach to Schizo-Affective Psychosis (D. Turkington & D. Kingdon).

Cognitive-behavioral Approaches to the Treatment of Personality Disorders (J. Pretzer).

The Assessment of Personality Disorder: Selected Issues and Directions (H. Jackson).

Less Common Therapeutic Strategies and Techniques in the Cognitive Psychotherapy of Severely Disturbed Patients (H. Perris).

Metacognition and Motivational Systems in Psychotherapy: A Cognitive-evolutionary Approach to the Treatment of Difficult Patients (G. Liotti & B. Intreccialagli).

A Cognitive-behavioural Approach to the Understanding and Management of Obsessive-compulsive Personality Disorder (M. Kyrios).

Interpersonal Process in the Treatment of Narcissistic Personality Disorders (E. Peyton & J. Safran).

Cognitive Psychotherapy in the Treatment of Personality Disorders in the Elderly (L. Bizzini).

Indexes.
"...The breadth and length of this book ensure that there is something for everyone here..." (Psychological Medicine, Vol.31, 2001)

"The most bang for your buck, and this edited text may just be the boost you are looking for" (Journal of Cognitive Psychotherapy, June 2002)