Coin Collecting For Dummies, 2nd Edition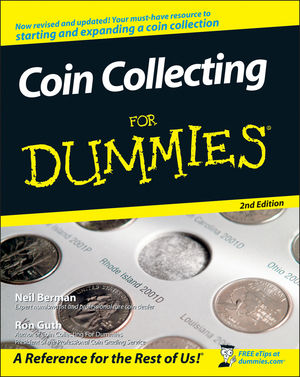 Coin Collecting For Dummies, 2nd Edition
ISBN: 978-0-470-22275-1
Jan 2008
384 pages
Description
Can't make heads or tails out of coin collecting? You need Coin Collecting For Dummies, 2nd Edition, the treasure trove on information on numismatics. This hands-on guide escorts you through the world's oldest hobby, helping you decide which type of coins you want to collect, keep your collection in mint condition, buy and sell coins on the Internet, find interesting coin shows to attend, and assemble and diversify a great collection.

The purpose of this fun, easy-to-access guide is to turn you into a world-class coin collector in as little time as possible. You'll learn what coins can teach you about history and geography, develop organizational and observational skills, and learn to use analytical tools, all without event thinking about it. And you'll learn the basics about ancient coins, U.S. coins, world coins, and the wild-and-wooly stuff that really gets your numismatic juices flowing. Discover how to:
Start your collection correctly
Evaluate coins using age, condition, rarity, and more
Buy interesting coins without breaking the bank
Locate rare and expensive coins
Get savvy about avoiding fakes
Get the whole family involved in your collection
Develop a buying strategy
Clean and handle coins safely
Keep your collection secure at home and on the road
Investigate tokens, medals, and miscellaneous coins
Create complete collections of copper, nickel, silver, or gold U.S. coins
When it comes to numismatics, Coin Collecting For Dummies, 2nd Edition is right on the money!
Introduction.
Part I: Making Heads and Tails out of Coin Collecting.
Chapter 1: Welcome to the World of Coin Collecting.
Chapter 2: Understanding Numismatics.
Chapter 3: Arming Yourself with Knowledge.
Chapter 4: Storing Your Collection Correctly.
Part II: Ancient to Present Day: Choosing Coins for Your Collection.
Chapter 5: Showing Their True Age: Ancient Coins.
Chapter 6: Making a Safe Bet with U.S. Coins.
Chapter 7: Globetrotting with World Coins.
Chapter 8: Exploring the Wild Side with Rare, Expensive, and Esoteric Coins.
Part III: Focusing on U.S. Coins.
Chapter 9: Colonial Coins: America's Ancients.
Chapter 10: Copper and Nickel Coins: Made for the Masses.
Chapter 11: Silver Coins: Keeping Commerce Alive.
Chapter 12: Gold Coins: Concentrated Wealth.
Chapter 13: Commemoratives: Raising Money with Money.
Chapter 14: Advancing to Oddball Coins.
Part IV: Buying Coins the Safe Way.
Chapter 15: Foiling the Fakes.
Chapter 16: Weaving Your Way through Price Guides.
Chapter 17: Wheeling and Dealers.
Chapter 18: Going Once, Going Twice: Buying at Auction.
Chapter 19: Affecting Value through the Condition of Your Coins.
Chapter 20: Grading Coins: Your Best Defense.
Part V: Selling Coins and Minding the Law.
Chapter 21: The Art of the Sale: Selling Your Coins Yourself.
Chapter 22: Selling Your Coins on Consignment or at Auction.
Chapter 23: Coin Investments, Taxes, and the Law.
Part VI: The Part of Tens.
Chapter 24: The Ten Most Valuable U.S. Coins.
Chapter 25: Ten Favorite U.S. Coin Designs.
Chapter 26: Ten Ways to Get Your Kids Involved in Coin Collecting.
Glossary.
Index.
"...a treasure trove of information on numismatics." (
Stamp & Coin Mart
, July 2011).
"After reading this guide you will understand the basics about ancient coins, US coins and world coins." (Stamp & Coin Mart, September 2011)