ColdFusion MX For Dummies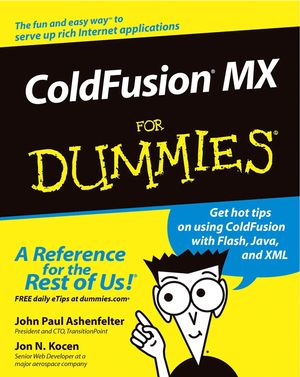 ColdFusion MX For Dummies
ISBN: 978-0-764-51672-6
Sep 2002
408 pages
Product not available for purchase
Description
ColdFusion MX is a Web-application development platform from Macromedia and it can definitely help energize your Web application development work. Super-simple to use—the only pre-requisite is knowing HTML—and featuring a set of powerful Web application development tools, ColdFusion MX makes it easier and quicker than ever to develop Web applications of every level of sophistication—from a homey photo archive of family snapshots, to a swanky enterprise application for managing electronic commerce.

Ready to turn up the heat with ColdFusion and take your site to the next level? Well, look no further. ColdFusion MX For Dummies offers you a fun, easy way to get up and running with everything you need to build amazing Web applications. In no time, you'll:
Work with databases, forms, variables, and tags
Get a handle on CFML, components database connectivity, and more
Use ColdFusion with Flash, Java, and XML
Harness Flash Remoting, XML handling, Web services support
Integrate ColdFusion with other sites, applications, and Web services
Supercharge your development efforts using Fusebox and FLiP
ColdFusion MX For Dummies is an excellent all-in-one source for newcomers to ColdFusion. It also provides developers who've worked with earlier versions of ColdFusion with an enjoyable way to get up to speed on all of ColdFusion MX's powerful new features. Topics covered include:
Making database connections, working with forms, displaying data, and programming variable, decisions, and loops
Building applications using the CF application framework
Using custom tags, ColdFusion components, CFSCRIPT, and UDFs
Building secure applications and debugging your ColdFusion application
Using complex data types and WDDX
Using Flash, Java, and XML with Coldfusion
Understanding Fusebox and FLiP
ColdFusion MX is loaded with tools to help you build high-performance Web applications. But where do you begin? This friendly guide delivers all the answers. ColdFusion MX For Dummies is your passport to a bold new level of Web development.
Introduction.

Part I: Warming Up to ColdFusion.

Chapter 1: The Case for ColdFusion MX.

Chapter 2: Talking with the Database.

Chapter 3: Working with Forms.

Chapter 4: Displaying Data.

Chapter 5: Programming with Variables, Decisions, and Loops.

Part II: Turning Up the Heat with ColdFusion.

Chapter 6: Understanding the ColdFusion Application Framework.

Chapter 7: Using Custom Tags and ColdFusion Components.

Chapter 8: Building Blocks: Functions, CFSCRIPT, and UDFs.

Chapter 9: Securing Your ColdFusion Application.

Chapter 10: Using E-Mail in Applications.

Chapter 11: Debugging and Troubleshooting Your ColdFusion Application.

Chapter 12: Complex Data Types and WDDX.

Chapter 13: Files, Directories, and FTP.

Part III: Walking through Fire: Secrets of the ColdFusion Gurus.

Chapter 14: Improving Performance.

Chapter 15: Using Flash with ColdFusion.

Chapter 16: Integrating Java with ColdFusion.

Chapter 17: Using XML with ColdFusion.

Chapter 18: Integrating ColdFusion with Other Sites, Applications, and Web Services.

Chapter 19: Understanding Fusebox and FLiP.

Part IV: Hot Stuff: The Part of Tens.

Chapter 20: Ten Cool ColdFusion Functions.

Chapter 21: Ten Best ColdFusion Resources.

Chapter 22: Ten More Cool ColdFusion Tags.

Part V: Appendixes.

Appendix A: Installing and Configuring ColdFusion Server.

Appendix B: A Quick SQL and Database Primer.

Index.
"…will help you get a good grasp on the programme without sending you to sleep or into an apoplectic fit…"(Cre@te Online, January 2003)
HRP.zip


ColdFusion MX For Dummies comes with a sample application, the Human Resources Portal (HRP), that shows the various features of ColdFusion MX. The HRP that we build over the course of this book is basically a phone book that enables people to search for employees by first name, last name, or even phone number. The HRP also contains an organization listing that shows all the employees in a selected department. You can see detailed information about employees, such as names, phone numbers, and office locations. In the spirit of useful running examples, this application touches on most of the ideas we demonstrate in this book. (By the way, all the employees in the HRP are fictitious, with the exception of two. Your mission, should you choose to accept it, is to determine which two are not fictitious.)

Download HRP.zip or the Fusebox version.

Exploring the Sample Application

To get started, download the ZIP file containing the HRP application and source code. To unpack the archive, you need an unzipping tool, such as Winzip. Unzip the files to a directory under your Web server's root directory and read the install.txt file for further installation instructions.

Download
fbhrp.zip (Fusebox version )

Download
Useful Links
Useful Links
Here is a list of very useful Web sites that can help you improve your ColdFusion skills.
webforums.macromedia.com/coldfusion
One of the largest repositories of ColdFusion information on the planet is the venerable ColdFusion Forums, part of the Macromedia site.
www.macromedia.com/desdev/mx/coldfusion
You can find articles by ColdFusion gurus, tutorials, sample sites, and plenty more about ColdFusion. Plus there are white papers galore, a knowledge base, and all the other features you'd expect in a support site.
www.houseoffusion.com
House of Fusion is responsible for CF-Talk and several other key mailing lists for the ColdFusion community. Most of the gurus of the ColdFusion world read CF-Talk.
www.defusion.com
The site includes an extensive DevBank of developers, consulting companies, and others who perform ColdFusion work.
www.sys-con.com
The folks at SYS-CON publish a number of technology-specific magazines, but the online CFAdvisor (www.cfadvisor.com) and the print ColdFusion Developer's Journal (CFDJ) are both outstanding resources for ColdFusion techniques.
www.cfnewbie.com
CFNewbie is aimed squarely at answering the questions of new ColdFusion developers. This is one site worth exploring as you improve your ColdFusion skills.
www.cflib.org
This is a great site that can save you hours of work in building your own functions. The functions are grouped into about a dozen categories, and you can download the entire set of functions for each category in a single file.
www.cfm-resources.com
CFM Resources is a source for ColdFusion information, as well as an excellent resource for lists of newsgroups, ColdFusion user groups, jobs, and other ColdFusion material.
www.cfconf.org
The ColdFusion community has done a great job organizing conferences, particularly the conferences thrown in the Washington, D.C., area (such as TeraTech's yearly CFUN conference) and the conferences thrown the day before the official Macromedia ColdFusion Developer's conferences.