Collaborating to Improve Community Health: Workbook and Guide to Best Practices in Creating Healthier Communities and Populations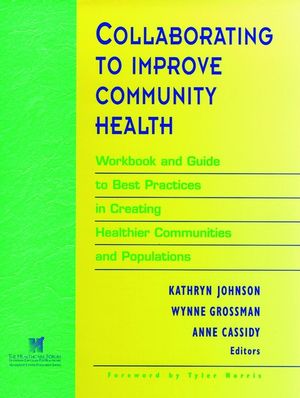 Collaborating to Improve Community Health: Workbook and Guide to Best Practices in Creating Healthier Communities and Populations
ISBN: 978-0-787-91079-2
Aug 1997, Jossey-Bass
272 pages
Description
Resolving Tough Community Problems with Teamwork

The first resource that shows how key players from local governments, businesses, health care organizations, school boards, churches, and police departments can be turned into a team, working together to improve their communities. The editors have gathered the accumulated wisdom of top consultants and practitioners and share the experiences and accomplishments of these experts who have worked in over fifty community partnerships across North America.

A useful, hands-on tool, this workbook contains a wealth of resources--including worksheets, guidelines, overhead slides, and case studies--designed to help every community implement a workable plan of action. It takes you through the Seven Core Processes, a synthesis of interrelated activities and events in which all collaborative efforts engage.

Will help communities


* Gain insight into the collaborative process
* Jump-start community efforts with new strategies and initiatives
* Understand and work through the action steps of each Core Process
* Craft more effective partnerships
* Create healthier and safer places to live
Organizing the Effort.

Convening the Community.

Creating a Shared Vision.

Assessing Current Realities and TrAnds.

Action Planning.

Doing the Job.

Monitoring and Adjusting.

Case Study One: Aiken, Growing Into Life.

Case Study Two: Chicago, Bethel New Life.

Case Study Three: Mesa Country, Healthy Community 2000.

Case Study Four: Orlando, Health Communities Initiative.

Appendix A: Survey Questions.

Appendix B: Capacity Inventory.

Appendix C: Logic Model.

Appendix D: Sample Action Plan in Progress.
"The most flexible and comprehensive guide I've found for strategic planning, convening the community, and empowering emerging leaders. Built on a solid theoretical foundation, this book offers a format that is easy to use in real life and real time. The worksheets are organized without being restrictive and the examples are both practical and inspirational." --Karen Papouchado, mayor pro tem, City of Aiken, South Carolina

"This is a superb resource for professionals and citizens seeking to create healthy communities." --John McKnight, director of community studies, Institutue for Policy Research, Northwestern University

"Read and listen to these stories of people working together to improve their community's health. This book is a must for cities with health providers, consumers, and organizations." --Linda Burnes Bolton, chief nursing officer, Nursing Research and Development, Cedars Sinai Medical Center

"The workbook sets a new standard for informative, user-friAndly, helpful, and inspirational materials in community-based collaboration, not only in healthcare but also for many other areas of interest and concern. It should be a basic resource for any community initiatives seeking to become 'learning organizations' in their common efforts." --Arthur Himmelman, principal, Himmelman Consulting, former senior fellow, Humphrey Institute of Public Affairs