Collaborative Learning Techniques: A Handbook for College Faculty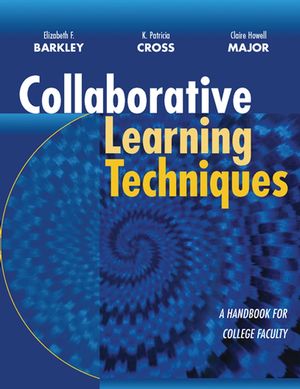 Collaborative Learning Techniques: A Handbook for College Faculty
ISBN: 978-0-787-95518-2
Oct 2004, Jossey-Bass
320 pages
Product not available for purchase
Description
Engaging students in active learning is a predominant theme in today's classrooms. To promote active learning, teachers across the disciplines and in all kinds of colleges are incorporating collaborative learning into their teaching. Collaborative Learning Techniques is a scholarly and well-written handbook that guides teachers through all aspects of group work, providing solid information on what to do, how to do it, and why it is important to student learning. Synthesizing the relevant research and good practice literature, the authors present detailed procedures for thirty collaborative learning techniques (CoLTs) and offer practical suggestions on a wide range of topics, including how to form groups, assign roles, build team spirit, solve problems, and evaluate and grade student participation.
Preface.
The Authors.
PART 1: INTRODUCTION.
1. The Case for Collaborative Learning.
PART 2: IMPLEMENTING COLLABORATIVE LEARNING.
2. Orienting Students.
3. Forming Groups.
4. Structuring the Learning Task.
5. Facilitating Student Collaboration.
6. Grading and Evaluating Collaborative Learning.
PART 3: COLLABORATIVE LEARNING TECHNIQUES (CoLTS).
7. Techniques for Discussion.
CoLT 1: Think-Pair-Share.
CoLT 2: Round Robin.
CoLT 3: Buzz Groups.
CoLT 4: Talking Chips.
CoLT 5: Three-Step Interview.
CoLT 6: Critical Debate.
8. Techniques for Reciprocal Teaching.
CoLT 7: Note-Taking Pairs.
CoLT 8: Learning Cell.
CoLT 9: Fishbowl.
CoLT 10: Role Play.
CoLT 11: Jigsaw.
CoLT 12: Test-Taking Teams.
9. Techniques for Problem Solving.
CoLT 13: Think-Aloud Pair Problem Solving TAPPS.
CoLT 14: Send-A-Problem.
CoLT 15: Case Study.
CoLT 16: Structured Problem Solving.
CoLT 17: Analytic Teams.
CoLT 18: Group Investigation.
10. Techniques Using Graphic Information Organizers.
CoLT 19: Affinity Grouping.
CoLT 20: Group Grid.
CoLT 21: Team Matrix.
CoLT 22: Sequence Chains.
CoLT 23: Word Webs.
11. Techniques Focusing on Writing.
CoLT 24: Dialogue Journals.
CoLT 25: Round Table.
CoLT 26: Dyadic Essays.
CoLT 27: Peer Editing.
CoLT 28: Collaborative Writing.
CoLT 29: Team Anthologies.
CoLT 30: Paper Seminar.
Appendix A: Key to Professor Names in CoLT Examples.
Appendix B: Additional Ideas for Integrating the Learning Task into a Curricular Framework.
References.
Index.